Blog - Top 10 Success Tips to Help Support Your Training Program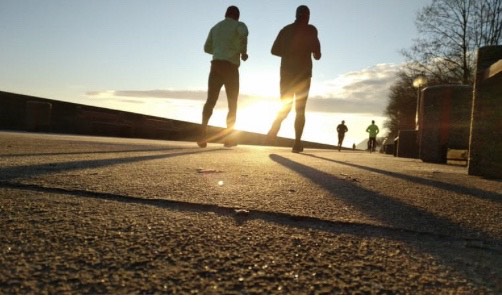 Top 10 Success Tips to Help Support Your Training Program
---
As many may be beginning a training program for the Air Force Marathon races, there are a few tips that can help with your progress and success along the way. To begin, creating healthy habits and routines help create a good foundation to prevent injury and help with recovery. Here are my top 10 tips to help with your success.
Create healthy habits and a daily routine. These may include a run/walk, a cross-training workout, eating healthy meals and snacks, taking your vitamins/supplements, increasing water intake, or developing a morning/bedtime routine.
Prep and plan healthy, balanced meals and snacks. Nutrition is instrumental in your success. Incorporating a balanced diet that consists of a lean protein, complex carbohydrates, and healthy dietary fats is most important.
Create a positive mindset. Mindset is key. There is a saying that goes, "The body achieves what the body believes." Remind yourself, "You can do this" and "I got this."
Schedule your training sessions. Having scheduled days and times to complete a training session allows more preparation to achieve them and allows adequate time to complete them. That includes incorporating cross training workouts which can help prevent injury (ex: strength training, cycling, and/or swimming.)
Plan your active recovery and rest days. Taking active rest after hard or long runs, such as, low intensity cardio will help reduce lactate levels, improve aerobic capacity, and speed recovery.
Also, keep in mind that life happens. Being able to be flexible in your training days may need to occur. Try to adjust and keep going.
Hydrate, hydrate, hydrate. Staying adequately hydrated can help with your recovery and help prevent injury.
Train in the various weather conditions we may have but keep yourself safe (ex: raining, high heat, etc.). Crosstrain if needed or hit the treadmill.
Stay connected. Studies have shown that having an accountability partner or group not only helps us stay committed but also makes it fun.
Get at least 7 hours of sleep each night to help with your recovery. As you increase your mileage, you may need to increase the amount of sleep you get each night. When we allow our bodies to fully rest it helps us wake feeling refreshed and ready to go for your day.
Getting your daily habits right, your mindset right, and being flexible in your training is so important. Following these tips can help. Lastly, remember keeping your training fun is the ultimate goal. Happy training Air Force Marathon Community!
---
#SponsorSpotlight
*No Federal endorsement(s) intended.