Page - Half Marathon
Half Marathon Event Details
Saturday, September 16th, 2023 at 7:30 a.m.
National Museum of the U.S. Air Force
REGISTER NOW!
Half Marathon Course Map & Description
2023 Half Marathon Course Map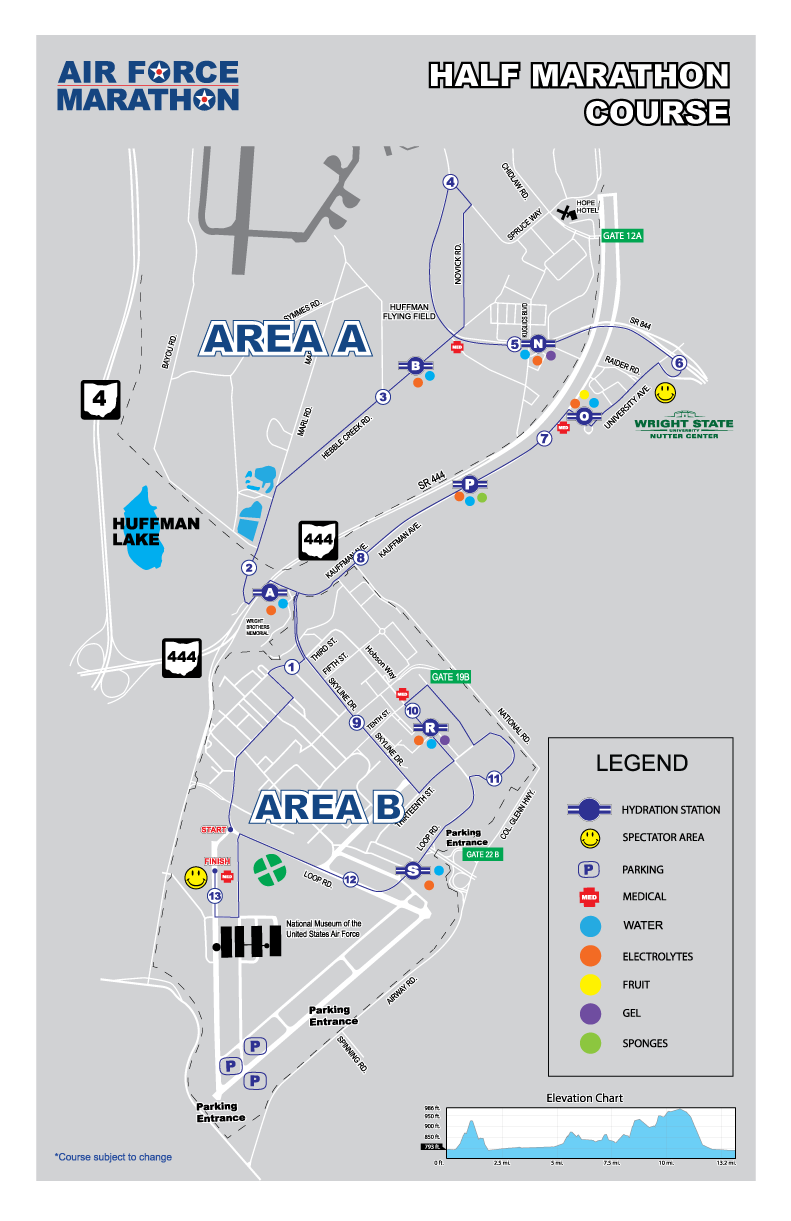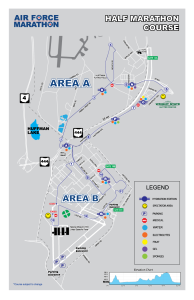 The Air Force Half Marathon course is as challenging as it is rewarding! Beginning at the National Museum of the United States of the Air Force, the course heads uphill right from the start before dropping down into the Historic Huffman Flying Field in the third mile. You then make a flat loop through the golf course and then head onto the 844 freeway exiting immediately via an offramp into Wright State University. Moving through the athletic facilities, you then make your way onto Kauffman Avenue which is a quiet road with gentle rolling hills. Now, at mile 8, the course heads up a stout hill back into Area B of Wright-Patterson Air Force Base before a long slight descent.
Head up one last hill by the Air Force Research Labs and the Air Force Institute of Technology before cruising down a large downhill back towards the finish line while being greeted with the entire Miami Valley in the distance. A flat and fast final mile sets the stage for a rewarding finish along a portion of the old flight line under the wingtips of historic aircrafts at the museum's Air Park.
Athletes Amenities
All registered half marathon athletes will receive a race shirt, virtual goodie bag, and a complimentary commemorative patch. Athletes who are 21 years or older will also receive a voucher for a complimentary beer at the finish line.
All half marathon finishers will receive a medal, Heatsheet, and finish line refreshments. Finisher certificates will be available to download after the race.
Rules & Regulations
Age Restrictions
Athletes must be 12 years or older on race day in order to register for the half marathon.
Time Limit
The half marathon course will be open for 7 hours.
Safety on the Course
No animals, no strollers, no baby joggers, no bicycles, no scooters, no inline skates, no roller skates, and no wheeled vehicles (other than official Bike EMS and Patrol Teams) will be allowed on the course. Strollers and baby joggers are allowed for the 5K event only.
Bib Pick-Up
Bib pick-up will be held at the Health & Fitness Expo located at the Wright State University Nutter Center on September 14th and 15th. There will be no bib pick-up on Saturday, September 17th unless you pre-paid for race day packet pick-up.
What You Need:
You must present a photo ID and know your bib number in order to pick up your bib. Bib numbers will be issued in late August, and you may either look them up ahead of time, or look them up at the designated Bib Number Look-Up station at the Expo.
If you are unable to attend the Expo yourself, you must make arrangements for a representative to pick up your bib for you. You must fill out and sign the Bib Pick-Up Authorization Form (found here), and your representative must present the completed form, a copy of your photo ID, and their own photo ID. Representatives who do not have these three things will not be able to pick up your bib, no exceptions.
Parking & Directions
We offer free onsite parking located approximately one mile from the start line. See our Parking and Directions page for details.
Awards
Awards will be presented to the top three male and female finishers in the following categories:
Overall
Active Duty Military
Mobility Impaired
Additionally, awards will be given to the top three finishers in each age group. See the Awards page for more details.