Page - Get Involved
Please note the 25th Annual Air Force Marathon in-person event scheduled for September 16-18, 2021 at Wright-Patterson Air Force Base has been transitioned to a virtual event. More information about this decision can be found on the event update page and you will also find virtual event details on our virtual experience page. From the entire team at the Air Force Marathon, we thank you for your continuous support!
---
There are many ways to get involved with the Air Force Marathon. Whether you are looking to volunteer, partner through our sponsorship or charity program, be a vendor at our Health & Fitness Expo, or join us along the course as a spectator we have just the spot for you!
Volunteer
We rely on the dedication from more than 2,500 volunteers who join our Flight Crew each year. Volunteers play a significant role before, during, and after race weekend.
See info: Volunteer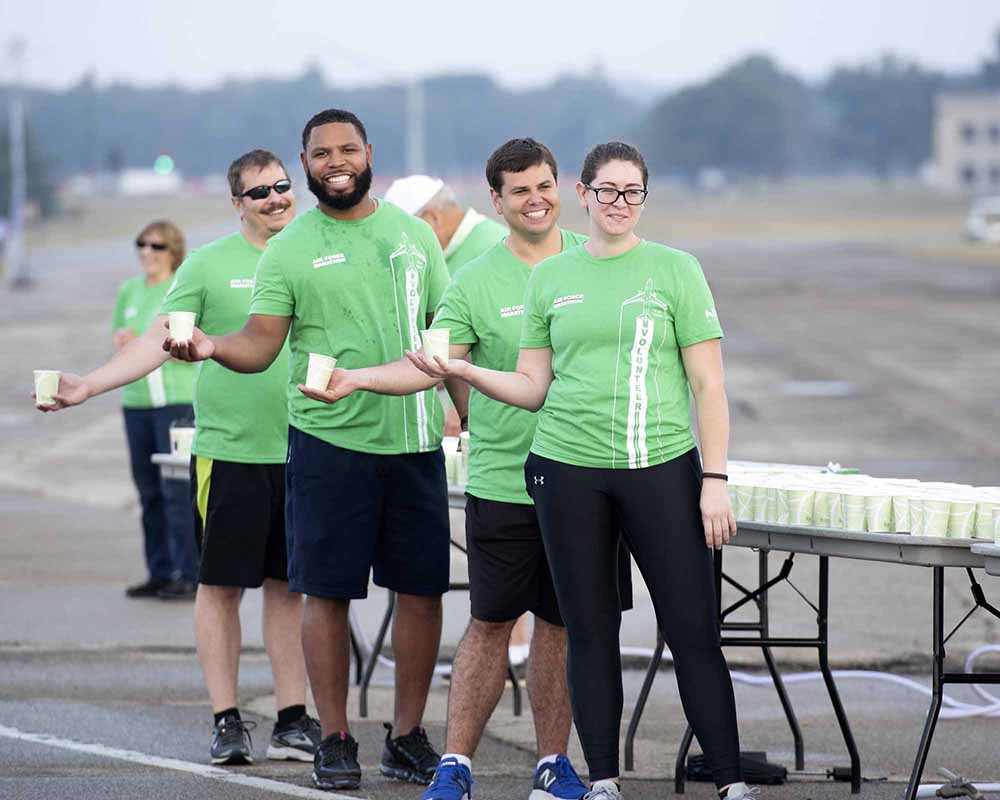 Sponsorship
We are beyond grateful of our generous sponsors who support the Air Force Marathon. We are honored to partner with local and global companies of various sizes all with the end goal of supporting our participants from the start line to the finish line.
See info: 2019 Sponsors
See info: Friends of the Marathon
See info: Become a Sponsor
Charity Partner Program
Each year, participants choose to make their Air Force Marathon more meaningful by running on behalf of a charity. We offer different levels and add-ons for each participating charity to choose from that best fits their fundraising goals.
See info: Charity Partner Program
Corporate Running Program
Does your company have a wellness initiative? Our corporate running program is the perfect way to promote wellness and increase morale while building stronger employee relationships.
See info: Corporate Running Program
Health & Fitness Expo
Our free, two-day Health & Fitness Expo serves as packet pick-up for all participants. The expo is open to the public and hosts more than 100 exhibitors featuring the latest developments in sports, fitness, and nutrition. The expo is located at Wright State University Nutter Center.
See info: Become a Vendor
Spectators
We welcome you to join us at the start line, finish line, and along the course to cheer on your family & friends!
See info: Spectator Info