Page - Sustainability
It takes a lot of resources to put together an event the size and caliber of the Air Force Marathon. That's why we're taking a look at what we can do to increase our sustainability.
In late 2018, we started working with the Council for Responsible Sport, an organization that helps events minimize their environmental impact and improve their communities. Their certification program measures the level of sustainability that an event has achieved. In the Air Force Marathon's first year with the Council, we expect to earn the Silver Certification for all of the changes we're implementing in our 2019 event. Over the course of the next several years, we will be working toward the highest level of certification, Evergreen.
This year, we are focusing our attention on sustainability in the finish line area. Some of the new things you'll see at the finish line in 2019:
Start and finish line banners made from post-consumable waste. These banners can be reused year over year, and recycled once they run out of life
All recyclable heat sheets
Trash cans replaced with trash stations, where waste will be sorted between trash, compost, and recycling
As an additional measure to show our commitment to sustainability, we have signed on with the United Nations' Sports for Climate Action framework. The letter below is the official memo from 88 MSG Commander Col Burger, stating the promise of the Air Force Marathon to support the vision of this U.N. program.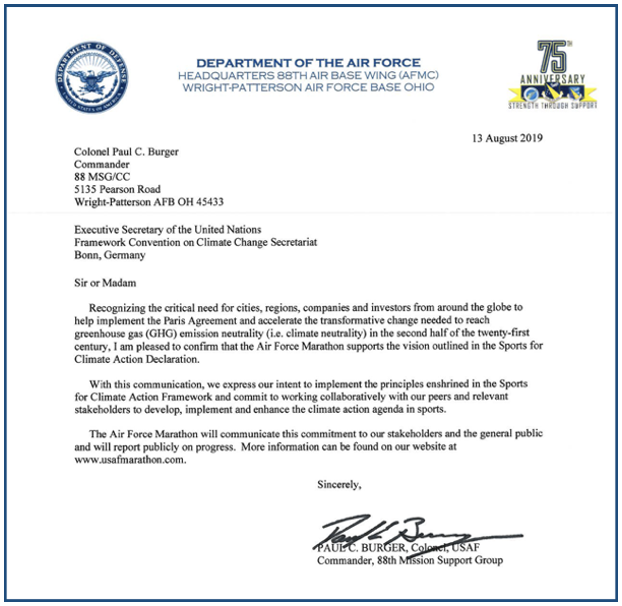 Moving forward, we will be implementing additional 'green' measures into our hydration stations, expo, and pasta dinner. We are proud of the progress we've made so far, and we will keep working to improve the community and the environment around us. Read more here.