Page - Stratosphere Challenge
After much thought and consideration, the Air Force Services Center has done a complete overhaul of the Air & Space Challenge (formerly known as MAJCOM Challenge). Beginning in 2023, this challenge will be called the Stratosphere Challenge and will be a competition amongst teams of Air Force and Space Force service members (active duty, reserve, or guard). The challenge will no longer be restricted by MAJCOM. Each half marathon and marathon team will be compromised of 5 members (mixed male/female) evenly built according to information provided on individual applications. 50 service members will be selected to attend (20 half marathon/30 marathon).
Individuals selected may attend in a permissive TDY status as authorized by AFI 36-3003, Military Leave Program. Each team member will receive uniforms and portions of travel, registration, and lodging reimbursed through Air Force Services Center.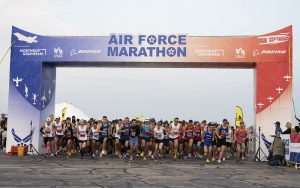 How do I register for the Stratosphere Challenge?
Registration is now open here for the Stratosphere Challenge of the Air Force Marathon scheduled for Saturday, September 21st, 2024. Click "Sports Leagues" and then "Air Force Marathon: Stratosphere Challenge".
Application link: https://dafsports.com/
The application deadline to apply for the 2024 Air & Space Challenge will be announced soon.
If you have any registration questions please email AFSVC.Sports.Workflow@us.af.mil. If you have any general race weekend questions please email usaf.marathon@us.af.mil.