Page - Virtual Races
Virtual Race Information
The Air Force Marathon will continue to offer the virtual race option so athletes from all over the world may continue to participate in the annual celebration of the founding of the U.S. Air Force right from their home. This option is open to everyone for the marathon, half marathon, 10K, and 5K events. See detailed event guidelines and frequently asked questions below.
Athlete Amenities
All registered virtual athletes will receive access to the virtual goodie bag and downloadable race bib, an official race shirt, complimentary commemorative patch, race bib, and official finisher's medal*. Race packets will be mailed to participants beginning in October.
*Please note: the official race shirt, race bib, and finisher's medal for the virtual event will all be the same design and not specify the distance completed.
*If registering for multiple virtual races only one medal and shirt will be provided.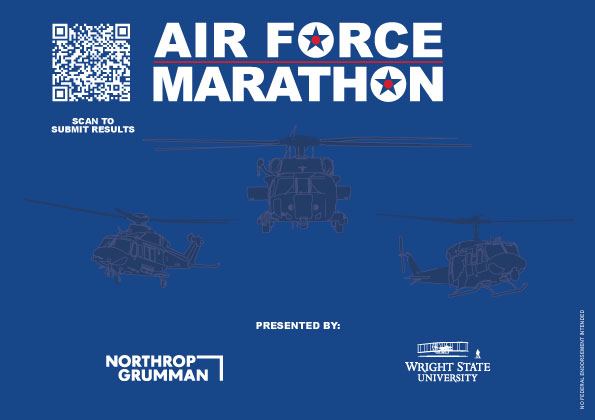 Virtual Race Guidelines
You must complete your virtual race within a single time frame between September 1st-30th. You may run, walk, or run/walk your full distance wherever you would like – around your neighborhood, on a treadmill, or any trail or course of your choosing. We encourage you to track your virtual event with a GPS-tracking app that will confirm your mileage and time.
After you complete your virtual race, you may submit your results and proof of completion (GPS data) online by September 30th. We will mail your official race shirt, official finisher's medal, and optional complimentary commemorative patch to the address you provided during registration whether you submit results or not. If you need to update this address at any time, you may do so by following these instructions or sending us an email. Virtual race athletes will not be eligible for awards as results will be considered unofficial and will not be verified.
Virtual Race Frequently Asked Questions
---
---