Page - Pacing
Air Force Marathon Pacing
Do you want to reach the finish line in a specific amount of time or want to run a set pace per mile? If so, pace teams are just for you! Joining a pace team is open to all runners and is free. A pace team is led by a person who is a trained expert to run a set pace per mile during the marathon and half marathon. Just look for the pace team signs in your designated corral. The person holding the sign will run the entire race carrying the sign and will aim for getting the group to the finish line at the assigned pace.
The Air Force Marathon offers two pacing options for the 2023 marathon and half marathon events. For runners interested in a traditional pace experience we offer On Pace. For those who run/walk using the Galloway Training method, we offer Galloway Pacing. Check out the pace groups offered in the charts below.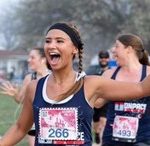 On Pace will lead our half marathon and marathon runners through the course and to their next PR! What began as creating a team for one local race has grown to teams in 29 states and three countries! OnPace has a 'runner first' approach. The pace teams listen to what those in their group wish to accomplish and come up with a quick plan on making that happen. Led by Carrie and Paul Miller, two of the most energetic, positive people you will meet, On Pace pace groups bring a wealth of knowledge and miles to the Air Force Marathon. Be sure to meet some of the crew at the Health & Fitness Expo!
On Pace Groups
Full Marathon
On Pace Groups
Half Marathon
3:00
1:45
3:10
1:50
3:20
2:00
3:30
2:10
3:40
2:20
3:45
2:30
3:50
3:55
4:00
4:10
4:20
4:30
4:45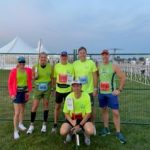 Galloway Pacing, led by Chris Twiggs, will return to the half marathon and marathon course. Every runner has their own style to reaching the finish line, and Galloway Pace team adheres to the run/walk method while helping others reach their goals. Galloway Pacing will be at the Health & Fitness Expo ready to greet you and help you cross the finish line too.
Galloway Pacing Groups
Full Marathon
Galloway Pacing Groups
Half Marathon
5:00
2:30
5:15
2:45
5:30
3:00
5:45
3:15
6:00
3:30
6:15
6:30
6:45
7:00