Page - 5K
5K Event Details
Friday, September 15th, 2023 at 6:30 p.m.
Wright State University Nutter Center
REGISTER NOW!
5K Course Map & Description
Taking place on the beautiful campus of Wright State University (WSU), this family-friendly 5K course winds downhill past the WSU's Nutter Center and athletic facilities before turning uphill into campus. The course levels out as you pass by classrooms and the heart of campus in route to the finish line at Nutter Center.
Athletes Amenities
All registered athletes will receive a race shirt, virtual goodie bag, and a complimentary commemorative patch.
All 5K finishers will receive a finisher medal (made in the USA), and finish line refreshments. Finisher certificates will be available to download after the race.
Rules & Regulations
Age Restrictions
Athletes must be 4 years or older on race day in order to register for the 5K.
Time Limit
Athletes have 90 minutes to complete the 5K.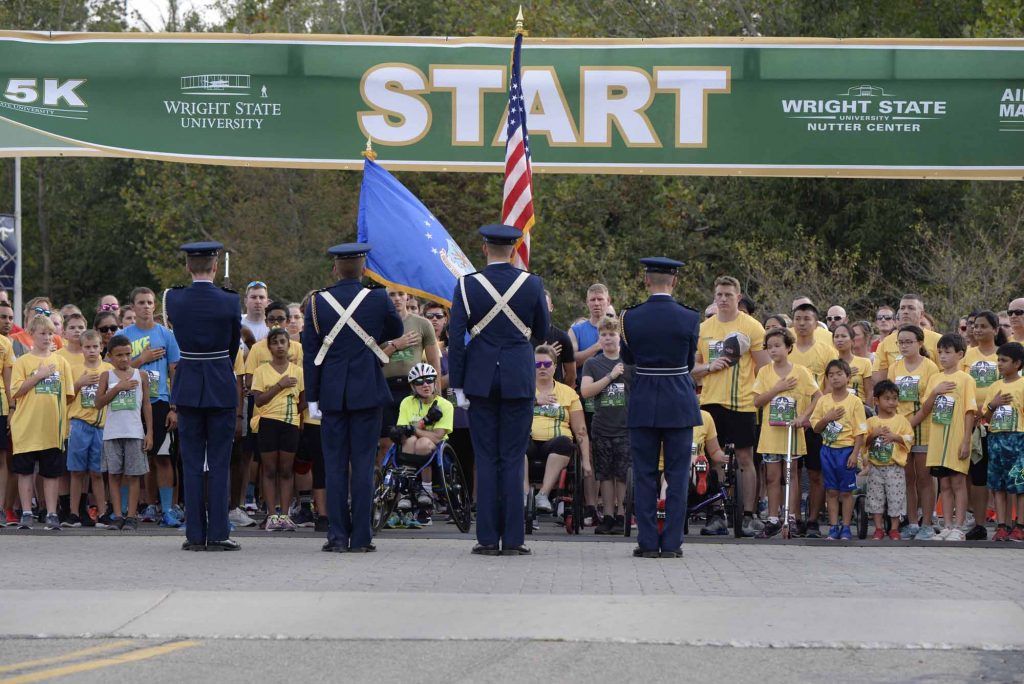 Safety on the Course
No animals, no bicycles, no scooters, no inline skates, no roller skates, and no wheeled vehicles (other than registered wheelchair and official Bike EMS and Patrol Teams) will be allowed on the course. Strollers and baby joggers are allowed for the 5K event only; participants with these items must start at the back.
Bib Pick-Up
Bib pick-up will be held at the Health & Fitness Expo located at the Wright State University Nutter Center on September 14th and 15th. All 5K athletes must pick up their bibs by 6:00 p.m. on Friday, September 15th in order to start the 5K on time at 6:30 p.m.
What You Need:
You must present a photo ID and know your bib number in order to pick up your bib. Bib numbers will be issued in late August, and you may either look them up ahead of time, or look them up at the designated Bib Number Look-Up station at the Expo.
Parking & Directions
Free parking is available onsite at the Nutter Center. Please note that traffic and parking lots will be very busy due to the Tailwind Trot Kids' Race, the 5K, and ongoing Expo. See our Parking and Directions page for details.
Awards
Awards will be presented to the top three male and female finishers in the following categories:
Overall
Active Duty Military
Wheeled Division
Mobility Impaired
Additionally, awards will be given to the top three finishers in each age group. See the Awards page for more details.