Page - Marathon 3-Person Relay
Marathon 3-Person Relay Details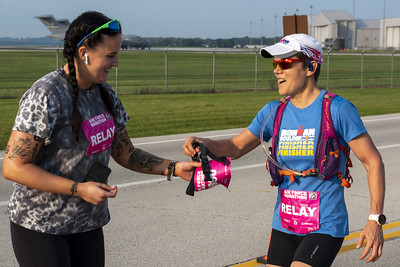 Saturday, September 21st, 2024 at 7:30 a.m.
National Museum of the U.S. Air Force
REGISTER NOW!

Course Map & Description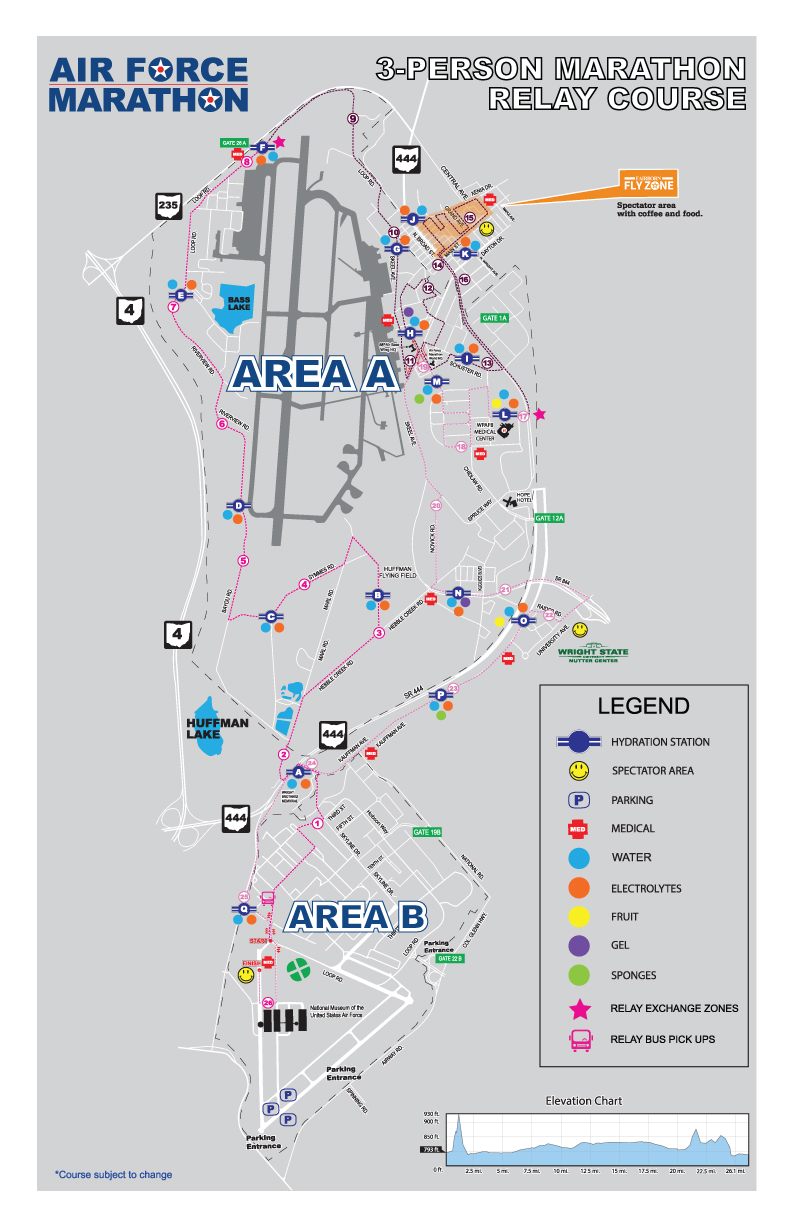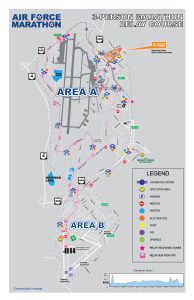 The Air Force Marathon relay takes place on the marathon course, with two relay exchanges at miles 8 and 17.
Leg 1 relay participants start at the same time as the other marathoners – 7:30 a.m. There is not a separate start time for relay teams.
Leg 2 and 3 relay participants will be bused to their respective relay exchange zone. They should report to the Relay Loading Zone near the start line on Springfield Drive.
Leg 1 relay participant will begin at the National Museum of the United States Air Force and head up a hill right from the start before dropping down into Historic Huffman Flying Field in the third mile. From there, you can expect a very flat and fast route for the next five miles as they start to lap the flight line where the 445th Airlift Wing constantly flies the beautiful C-17!
Leg 2 relay participant will proceed on this flat and fast route and continue into downtown Fairborn at mile 15 for what is lovingly referred to as the Fairborn Fly Zone. Stay cool here and don't let the incredible energy cause you to accelerate too much as you make your way down Main Street! Returning back to the base, you then run through the historic brick house living quarters that were recently added to the National Historic Register.
Leg 3 relay participant will fly by the golf course and out onto the 844 freeway before exiting right into Wright State University's athletic facilities. From here a few gentle rolling hills and one downhill separate you from the flat final mile. Once back inside the Air Force base gates of Area B at mile 26, zip along a portion of the old flight line and finish under the wing tips of historic aircrafts at the museum's Air Park!
| Leg | Location | Leg Distance | Total Distance |
| --- | --- | --- | --- |
| 1 | Starting Line to Mile 8 Aid Station | ~8.4 miles | ~8 miles |
| 2 | Mile 8 Aid Station to Mile 17 Aid Station | ~9.2 miles | ~17 miles |
| 3 | Mile 17 Aid Station to Finish Line | ~8.6 miles | 26.2 miles |
Athletes Amenities
All registered relay athletes will receive a race shirt, virtual goodie bag, and a complimentary commemorative patch. Athletes who are 21 years old or older will also receive a voucher for a complimentary beer at the finish line.
All relay finishers will receive a medal, and finish line refreshments. Finisher certificates will be available to download after the race.
Rules & Regulations
Age Restrictions
Athletes must be 12 years old or older on race day in order to register for the relay.
Safety on the Course
No animals, no strollers, no baby joggers, no bicycles, no scooters, no inline skates, no roller skates, and no wheeled vehicles (other than registered wheelchair and official Bike EMS and Patrol Teams) will be allowed on the course.
Bib Pick-Up
Bib pick-up will be held at the Health & Fitness Expo located at the Wright State University Nutter Center on September 19th and 20th. There will be no bib pick-up on Saturday, September 21st unless you purchased race day packet pick-up.
What You Need:
You must present a photo ID and know your bib number or team name in order to pick up your bib. Bib numbers will be issued in late August, and you may either look them up ahead of time, or look them up at the designated Bib Number Look-Up station at the Expo.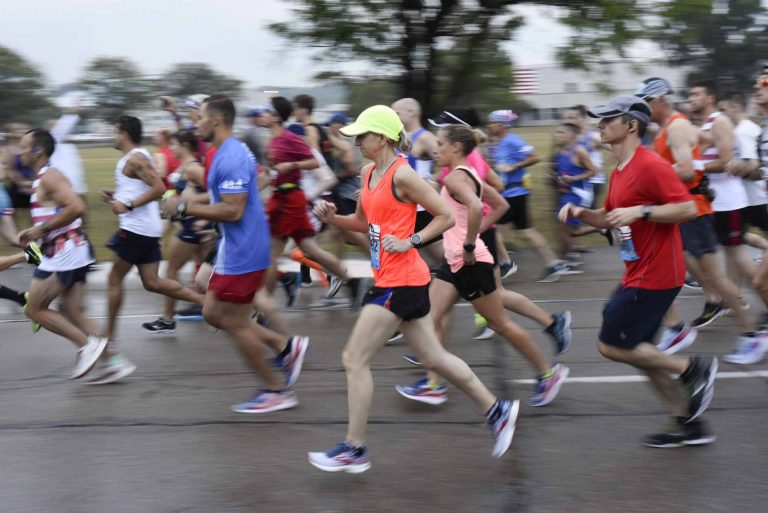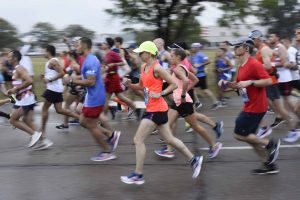 Relay packets will be distributed at the Relay Pickup Counter at the Expo and will contain all materials and supplies for each of the runners on the team. Only one member of the team may pick up the packets for the team, but all team members are advised to come for the pick up and distribution of team packets. Packets will be organized by team name.
If you are unable to attend the Expo yourself, you must make arrangements for a representative to pick up your bib for you. You must fill out and sign the Bib Pick-Up Authorization Form (found here), and your representative must present the completed form, a copy of your photo ID, and their own photo ID. Representatives who do not have these three things will not be able to pick up your bib, no exceptions.
Parking & Directions
We offer free onsite parking located approximately one mile from the start line. See the Directions, Parking, & Shuttles  page for details.
Fairborn Fly Zone (Spectator)
Family and friends can head over to the Fairborn Fly Zone located around miles 15-16 of the marathon course. The Fly Zone provides free bus transportation from the Air Force Marathon start line at the National Museum of the United States Air Force to downtown Fairborn and back. Learn more here.
Awards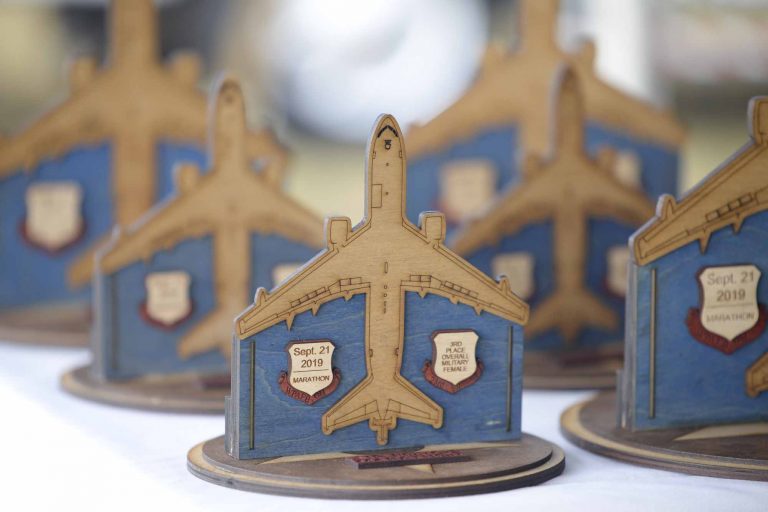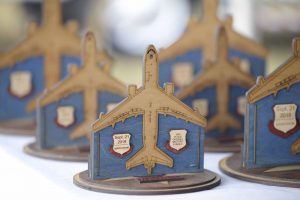 Awards will be presented to the top three male, female and mixed team finishers in the following categories:
See the Awards page for more details.
Divisions
Men's Team
Women's Team
Mixed Male/Female (2:1 gender ration; one must be a female)
Military Male
Military Female
Military Male/Female (2:1 gender ration; one must be a female)
ROTC (2:1 gender ration; one must be a female)
Marathon 3-Person Relay FAQs