Blog - On the move…When asked Why?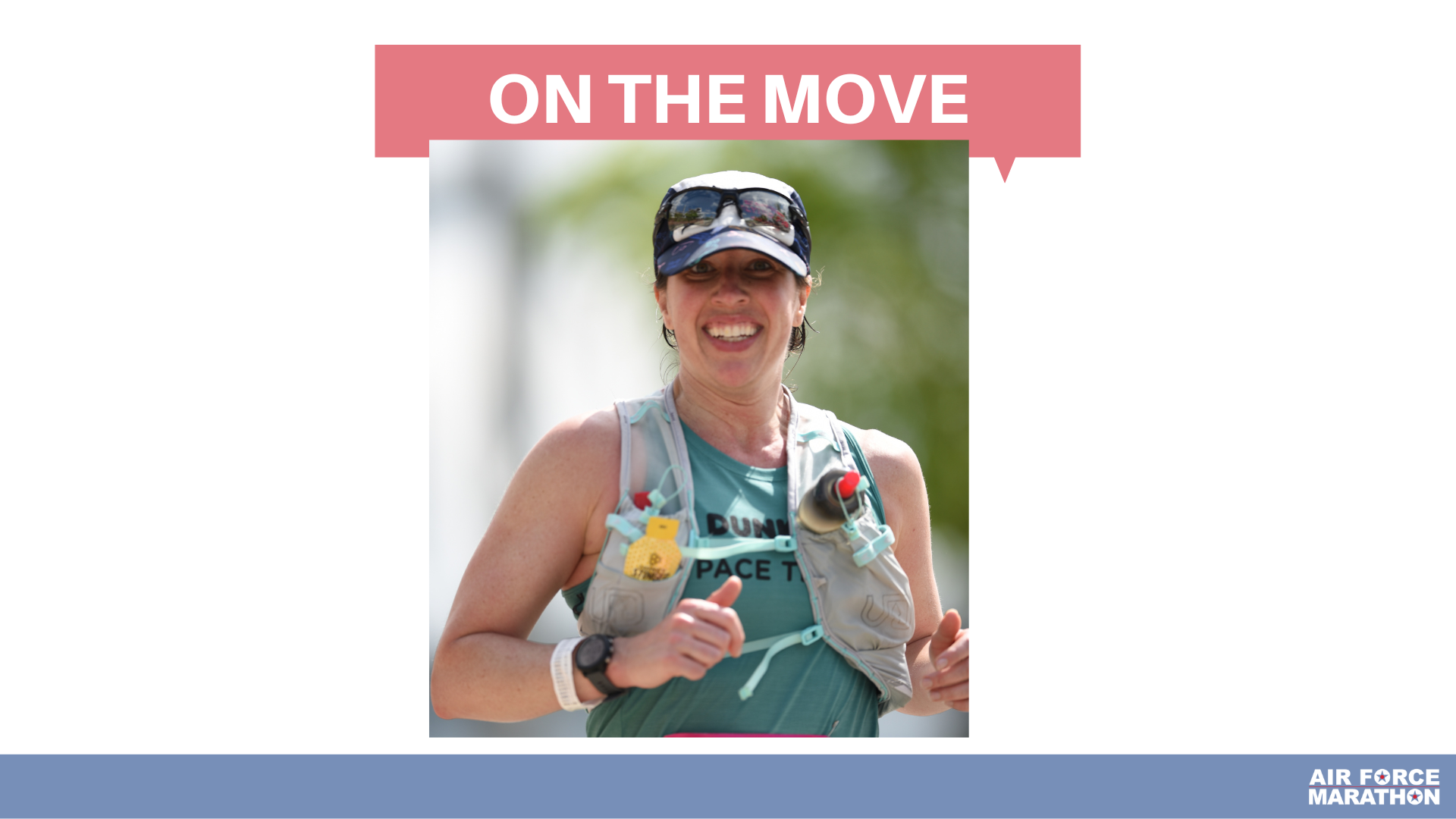 Why the Air Force Marathon?
Rachael and I were interviewed for a podcast Monday. One of the first questions asked was 'what brought you to the Air Force Marathon?' Rachael's story is one of working her way through the ranks and growth. Mine is different because I worked my way through a few different races to the top. I love running and get the greatest joy coaching others to lace up and discover they are a runner. A girlfriend saw the assistant director position posted on USAJOBS and told me I had to apply. That text stopped me dead in my tracks. This was THE AIR FORCE MARATHON. This wasn't a local 5k that I could be involved with as a side job.
As background, I love military races. I am one marathon away from Runner's Club for Marine Corps Marathon (hello October). The Steps and Salutes 5k in Loveland is a favorite.  The Honor Half in Florence, KY holds my PR. All of the races honor those who have served and continue to serve. Before each event, I think about and honor my grandfather, a LtCol in the Army, who died while serving. I get a pep talk (re: a Marine version of a cadence) and a kiss on the top of my head from my 'running partner' who I met because of the MCM.  The precision, the execution, the fanfare of military races is unlike others. Walkers and runners carrying flags throughout their entire race, men and women rucking 26.2mi while the sun scorches, cheering for each person wearing an RWB shirt does something for my soul that I miss in civilian events.
The moves in history that made this possible.
The Air Force Marathon is in it's 27th year. And in that time, there have been a handful of Directors. Their longevity in the role, the time and dedication to grow the race into more, is what pushed me to apply. Each branch of the military is steeped in history and tradition. The Air Force is the second youngest branch of the military yet has some of the most amazing advancements in that timespan. Marathon weekend isn't only a 26.2-mile race. There are events on Friday and Saturday for the entire family which was a huge draw for me. The Marathon organization even created a virtual race series to honor the planes and helicopters of the past to showcase how far they've come. What's more, there is now a Space Force race in December to honor the newest branch and their amazing contributions as well.
Last year, the Air Force Marathon hosted 8500 participants. Of those, 30% were members of the Air Force who traveled from bases all over the world to celebrate the event, each other, and the Air Force itself.  I was fortunate enough to watch many of them finish their races and each brought a smile to my face. Why, you ask? The sense of accomplishment for completing a race while wearing insignia with the squadron/flight on their shirts was unmatched. Their pride was infectious. The camaraderie with other Air Force members all cheering and congratulating each other was heart-warming. Seeing this, being on the outside looking in made me realize I wanted to be part of the Air Force Marathon team more than ever.
Why I chose the Air Force Marathon may be unconventional to some and that is ok. It was the right fit at exactly the right time.
On the move…Rainbow Fartlek
The buzz word of the week: fartleks. I LOVE this workout and hope you find it beneficial. You can change it to repeats if you're marathon training. This is what I do when I truly don't want to run all of the miles but refuse to trash a run.
You know the drill by now. STRETCH before you run. And since you'll be sprinting, make sure you do figure 4s, squats, and hamstring stretches. Ankle circles are also a must.
Rainbow Fartleks courtesy of Rick Lukin and the Performance Project:
1 mile warmup
:30 run
:30 recovery
1:00 run
1:00 recovery
1:30 run
1:30 recovery
2:00 run
2:00 recovery
1:30 run
1:30 recovery
1:00 run
1:00 recovery
:30 run
:30 recovery
1 mile cool down.