Page - The Air & Space Challenge (Formerly MAJCOM Challenge)
Please note the 25th Annual Air Force Marathon in-person event scheduled for September 16-18, 2021 at Wright-Patterson Air Force Base has been transitioned to a virtual event. More information about this decision can be found on the event update page and you will also find virtual event details on our virtual experience page. From the entire team at the Air Force Marathon, we thank you for your continuous support!
---
Each year, the Air Force Marathon hosts the Air & Space Challenge (formerly known as the MAJCOM Challenge) where 10-person teams are selected to represent their respective MAJCOMs and compete against one another. Each team is made up of 3 males and 1 female competing in the marathon and 4 males and 2 females competing in the half marathon.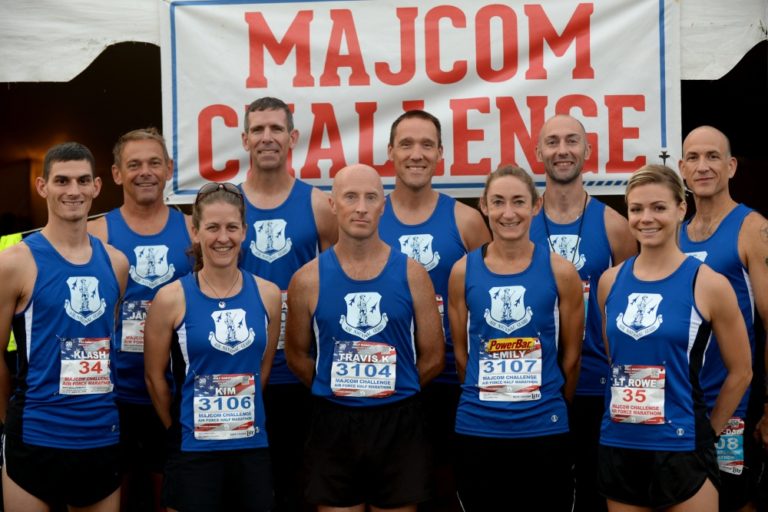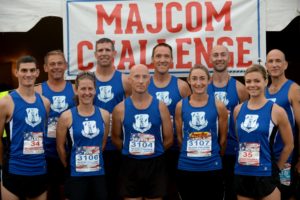 The following MAJCOMs are funded: ACC, AETC, AFDW, AFGSC, AFMC, AFRC, AFSOC, AMC, USAFE, PACAF and Space Force. Individuals selected to represent their MAJCOM may attend in a permissive TDY status as authorized by AFI 36-3003, Military Leave Program. Each team member will receive uniforms and portions of travel, registration, and lodging reimbursed through services.
How do I register for the Air & Space Challenge?
Registration opens on February 15th for the Air & Space Challenge in the 25th Anniversary of the Air Force Marathon scheduled for Saturday, September 18th, 2021!
Sign up using the AppTrac system here. You will not need to fill out any forms this year. Just sign up through the link above and select either the half or full marathon under your MAJCOM.
The application window for the Air & Space Challenge is February 15th – June 3rd.
If you have any questions about the application process, please email AFSVA.FitnessSports@us.af.mil.