Blog - Celebrating 9 Years with the Air Force Marathon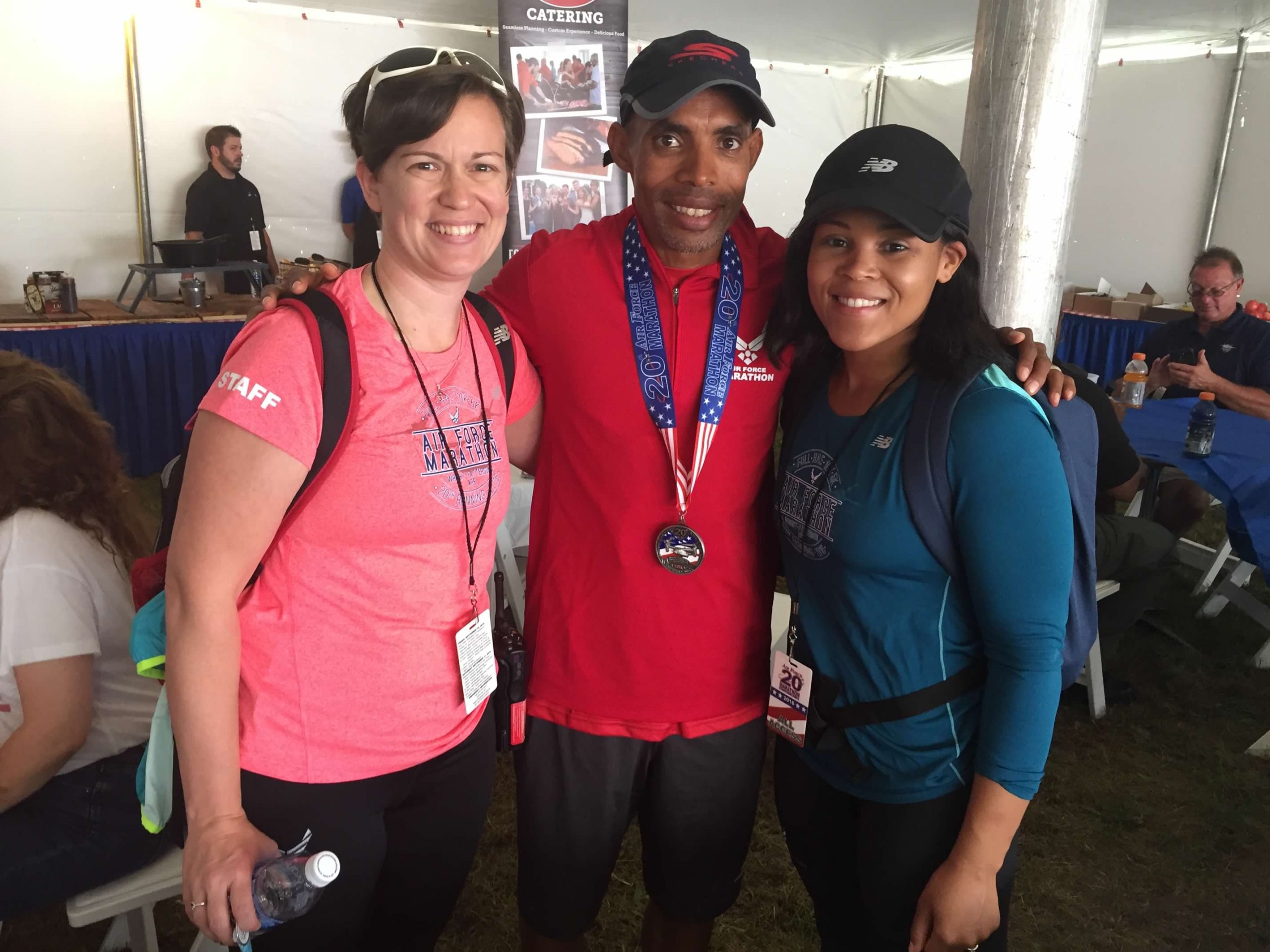 Where has the time gone?
For this month's Director's blog, I decided to share a little bit with you of my journey of years thus far at the Air Force Marathon. On June 2, I celebrated 9 years with the organization! Now, if you'd asked me 9 years ago if I would one day be the Director, I most likely would have laughed at you; however, as I shared earlier this year, it really was a dream for me without the full belief of realization.
And yet here I sit today, writing to you from the director's desk. Some days that fact still feels a little unreal. I am passionate about what we do here, and I literally pour blood, sweat and tears into this event. Through the years it's also been filled with a lot of laughter, great encounters with many people, a few bad hair styles on my part, and so much growth. I am grateful to have this opportunity.
A few highlights:
As a brief recap for those who don't know, I started out as the Office Administrator in 2014. In 2018 I moved to doing the Events Manager position (expo, etc). In 2019, I was named the Assistant Director and in July of 2022 I became the Director. I have been humbled (more than once), I have learned countless lessons, I've met so many wonderful people and I've experienced both heartache and celebration in my variety of roles. So today I just want to reflect for a few moments with you and share some photos and a few memories. It is literally impossible for me to recount all of them, but here are just a few:
People I've worked with through the years who served as teammates and mentors along the way: Rob, Mike, Lisa J., Jeanette, Jordan, Rick, Danielle, Liz, Taylor, Rachel, Brandon, Matthew, Katie, Robin, Megan, Chloe and Shalynne….. to my current teammates: Chris, Alex, Julianna, Jasmine, Lisa M. and Jill. People come and go in our lives and each of these individuals has played a role one way or another. Some remain a part of my story, others were just some paragraphs in the chapters. However, all taught me valuable lessons along the way.
We've had some cool guest speakers through the years. Dave McGillivray following the Boston Marathon bombing will stand out to me, but also Meb Keflezighi whose book Run to Overcome will always serve as motivator to me.
 The U-2 Dragon Lady was our featured aircraft in 2015. In that year as the Office Admin, I worked closely with the pilots who flew the aircraft and I got to learn some neat things about their job daily and help them out with getting to our event. I am not an airplane guru by any means- in fact, I typically must study whatever current aircraft we have to know it. But I do learn about them each year, and that one will always be one of my favorites, partially because of my encounter with the pilots. I absolutely love our flyovers every year and am moved by them as they grace our skies and open our race for us.
 Bucket Truck job: one year I was tasked to sit stand up in the bucket lift, many feet into the air where I could oversee the whole start and finish line. My job was to spot the lead runners and call them in. Seems like a silly job when there are so many ways (now) to track those runners, but in the year, I did that, there was value to it. There were also interesting challenges. One: I could not leave the position to go to the bathroom for hours, so that was interesting. But two (and far more important): I had the chance to see the event from a different view/perspective. I have pictures of the morning fog rolling out of the sky to show our beautiful airplanes. I show participants crowding in to begin the race. I saw the lead runners come through, and I was so high it felt almost like I could touch the airplane as it flew over. I'd spent the entire previous year planning with the team to execute that race and to see it unfold from above was a day I won't forget.
Do what you love, love what you do.
Honestly, the list is so long, it's impossible to put into words here. The point is I really do love my job. I love this race. I am excited to hear the runner stories and to see you accomplish your goals on the finish line. When I talk with you, it makes every moment of the year's planning worthwhile.  I have an amazing team that makes up our event and I enjoy each one of them. We are a small team, but we are an amazing one.
1 down, so many more to go!
While I've been with the event for 9 years now, I'm just approaching my official year 1 as Director. Being in charge has a whole new set of curve balls and perspectives which are difficult, but the closer we get to September, the more worthwhile each challenge is. Reflecting on the growth and on the special ways this event has impacted and continues to impact me are good reminders. I also use this to challenge you all to know to never give up on your dreams.  While life reshapes and changes constantly, never stop growing to keep being a better version of you, whether that's in your career, as an individual, in your athletic journey or all the above. Life can be hard (a lot of the time), but there are always positives and beauty found in the moments as well. Keep going for your dreams! See you all in September on the Finish Line!