Page - Vendor Opportunities
2020 Virtual Expo Vendor Registration Now Open!
Virtual Health & Fitness Expo: September 1st-30th

Register Here
Vendor Pricing
$150/vendor
About the Virtual Health & Fitness Expo
The Virtual Health & Fitness Expo will allow vendors to showcase their products, host video chat sessions in real-time, and link to their online store or embed via Shopify. We will keep the virtual expo open September 1st-30th, allowing participants plenty of time to check out all the vendors and what they have to offer. The virtual expo also has a searchable booth/sponsor directory to make it easier for participants to find specific vendors.
Virtual Expo Benefit Highlights:
Showcase product/programs
Host video chat sessions in real-time
Link to online store or embed via Shopify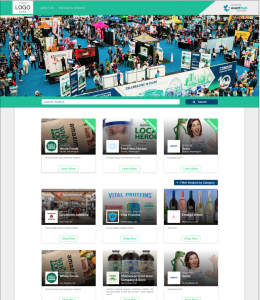 Expo vendors will have the opportunity to promote and sell their products and/or services to thousands of runners and health & fitness enthusiasts. Our professional staff will work with your organization to help you achieve your marketing goals and ensure promotional success. Read more about creating your virtual vendor booth here or watch a video tutorial on YouTube here.
The Virtual Health & Fitness Expo is free and open to the public.
2020 Vendors
Addaday, LLC/Amazing Solutions, Inc.
Advanced Running Project
Blue Cross Blue Shield
Boeing
Bondi Band
Cleveland Marathon
Fifty5 Rivers Cold Brew
Flags of Valor
Get Healthy with Z
Guidehouse
Lasik Plus
Lockheed Martin
New Balance Dayton
Northrop Grumman
Runners Plus
Synchrony
That Others May Live Foundation (Charity Partner)
Turtle Gloves
Up and Running
USAA
Whole Body Fitness
& More!
2019 Participant Demographics
Average Age: 41
Gender: 50% Male / 50% Female
Income Levels: 68% live in households earning more than $50,000.
Education Levels: 69% hold 4-year college degree or better.
---
It comes with much difficulty that we have announced the cancellation of the 2020 Air Force Marathon in-person events scheduled for September 17-19. You may read more about the decision here as well as check out the frequently asked questions regarding the virtual event and cancellation decision.
Additionally, the in-person Health & Fitness Expo is also cancelled but we are excited to offer a virtual expo experience for our vendors and participants (details above) for the entire month of September. Please don't hesitate to call us at 937-257-4350 if you have any questions.