Page - Vendor Opportunities
The 2017 Air Force Marathon Sports and Fitness Expo is Thursday, September 14, and Friday, September 15.
Sports & Fitness Expo
 Call the Air Force Marthon Staff for booth sales information (937)257-4350.
Download your Exhibitor Kit HERE.
Download the Expo Map HERE.
Expo vendors will have the opportunity to promote and sell their products and/or services to thousands of runners, health & fitness enthusiasts and spectators. The expo offers merchandise sales opportunities, sampling, running clinics, stage floor performance/demonstration opportunities, speaker's forum and more. Our professional staff will work with your organization to help you achieve your marketing goals and ensure promotional success.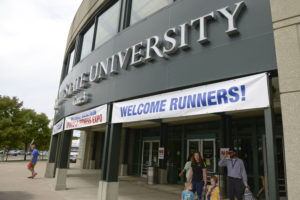 The Sports & Fitness Exposition is free to attend and open to the public.
Approximately 30,000 people attended the 2016 Expo. Our runners represented all 50 states, the District of Columbia and 17 foreign countries. This gives expo vendors the opportunity to connect with a large and global target market of health & fitness enthusiasts.
In 2017 we will have 15,000 participants in the Air Force Marathon. Our one-way circular traffic flow on the concourse ensures that every visitor must walk past every vendor in order to get to bib pick-up.  We have expanded the number of booth spaces on the arena floor to put vendors right next to bib or shirt pick-up.
Wright State University's Nutter Center is a state of the art facility conveniently located near Wright-Patterson Air Force Base and Wright State University. There are many hotels and restaurants located nearby for the convenience of our vendors and race participants.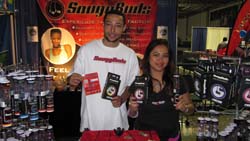 2016 Participant Demographics
Average Age: 40
Gender: 48% Male / 52% Female
Income Levels: 67% live in households earning more than $50,000.
Education Levels: 68% hold 4-year college degree or better