Page - The Air & Space Challenge
After much thought and consideration, the Air Force Services Center has done a complete overhaul of the Air & Space Challenge. Beginning in 2023, this challenge will be a competition amongst teams of Air Force and Space Force service members. Each half marathon and marathon team will be compromised of 5 members (mixed male/female) evenly built according to information provided on individual applications. Only 50 service members will be selected to attend.
Individuals selected may attend in a permissive TDY status as authorized by AFI 36-3003, Military Leave Program. Each team member will receive uniforms and portions of travel, registration, and lodging reimbursed through Air Force Services Center.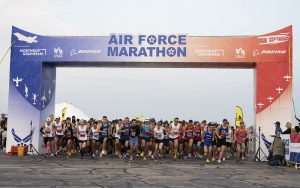 How do I register for the Air & Space Challenge?
Registration will open April 3, 2023 for the Air & Space Challenge of the Air Force Marathon scheduled for Saturday, September 16th, 2023.
Application link: Coming soon!
The application deadline to apply for the 2023 Air & Space Challenge is May 15, 2023.
If you have any registration questions please email AFSVC.Sports.Workflow@us.af.mil or if you have any general race weekend questions please email usaf.marathon@us.af.mil.