Page - Dr. Mark Cucuzzella's Running School
Dr. Mark Cucuzzella's Running School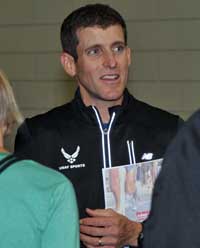 Mark Cucuzzella, MD, FAAFP
Professor, Family Medicine, West Virginia University
Lt Col, US Air Force Reserves
Chief Medical Consultant, Air Force Marathon
For Dr. Mark's three-module Efficient Running Project for all runners, go to www.efficientrunning.net.
John F Kennedy, over 40 years ago, outlined the current challenge to family fitness and gave us the solution.
"Our growing softness, our increasing lack of physical fitness, is a menace to our security"
"We do not want, in the United States, a nation of spectators. We want a nation of participants in the vigorous life. This is not a matter which can be settled, of course, from Washington. It is really a matter which starts with each individual family…"
In the Air Force we live in small families within the large group. Culture and behavior change will need to grow out of these small families, but with the proper knowledge and tools.
Thank you for the opportunity to share advice and experience with fellow runners, walkers, and fitness enthusiasts. If you are training for an event, striving to improve your health and fitness, desire to experience less discomfort in your endurance activity, or a military member trying to improve on your PT test, then read on. Although this article focuses mostly on running, the principles apply to all endurance activity as well as overall health. Most of us understand you must train if you wish to run well and for greater distances. What is mostly ignored in running are the principles and the concept of practice. Imagine if you take up golf and were told to get buckets of balls and each week hit more balls harder in hope that the result would be effortless and precise rounds of golf. Or you desire to finish a triathlon with limited swim skills and hope to get better in the water just by fighting it harder each day. Seems crazy for these sports, yet we allow runners to "just go run" with more and harder miles until something breaks down.
Running is a seemingly simple activity. It was when we were kids. So why do many have difficulty on the Fitness Test and/or get injured trying? In reality for the working Airman it is a complex mix of physiology, anatomy, biomechanics, nutrition, strength and coordination of movement that we must make simple again. We are going to introduce you to practice for running. Practice is fun as you see more relaxed movement develop, painless efficiency, speed improvement, and confidence. So how do we practice for running? We have broken this down into chapters
The goal is progressively to improve your Running Economy. As a simple analogy this is your cruising speed.
"Keep everything as simple as possible….but not one bit simpler" was Albert Einstein's approach. I will try in this article to help simplify many confusing, although not complex concepts.
For some of you this is like taking the "red pill" in the Matrix. Your choices are taking the blue pill and continue what you are doing, or take the red pill and open your mind to what may be some new magical experience. If you are often sore, injured, or moving much slower than you think you should then go for the red.
What is my personal experience with what seems to be too simple to be true? I took the red pill. Trust me; I would never suggest anything without the personal road test of many years. In 2000 after 20 years of competitive running I needed surgery to correct severe osteoarthritis changes in my large toe joints (essentially big toes could not bend…not good for running) and advised to find a new sport.
Not satisfied with that answer I needed to figure out how to continue the enjoyable lunchtime diversion. I studied and applied aerobic heart rate techniques and running form focuses. I needed to relearn how to run without hammering my feet and lower extremities. I ran slower than I ever had to keep my HR below 150. When the beeper went on signaling too high a HR I'd relax, focus on easy efficient form, and usually without slowing the HR would lower. My time at the easy HR went from 9 minutes a mile to close to 6 minutes a mile after a summer of doing this alone and no faster interval running. Surprisingly 6 months after the surgery I ran 2:28 for 3rd place at the 2000 Marine Corps Marathon. Never had running seemed so effortless and enjoyable. No pain…good. I've not missed a day due to injury or illness since the surgery and at a couple weeks shy of my 45th birthday won the Air Force Marathon in 2:38. As can be true with all of us, I continue to "practice" and learn every day. More importantly though is my role in helping others through my roles in US Air Force as a lead in our Efficient Running Project.
See this New York Times story, Air Force Times story or Outside magazine piece You Don't Know How To Run for a little of why I'm sharing this story. I have witnessed many others achieve completely new levels of health and freedoms of movement by applying what we will teach in the sections of Dr. Mark's Running School.
In closing I share with you a note From Dr. Timothy Noakes on what we should try to achieve in the USAF. Dr. Noakes is the world's leader in exercise physiology and running, having published hundreds of papers and authoritative text books on multiple subjects of exercise science.
Dear Mark
…..I agree that if you want to sustain activity for life you have to do the long slow distance type running and I think that that is more healthy in the long term…. I would think that one needs to promote the idea that you are not training to run 1.5 miles; what you are training for is to live a long and productive life and maintaining health optimally. For that there is no question that whatever is sustainable is the best type of training. My view is that it is much more sustainable to run longer distances at one's own comfortable pace on a daily basis than to have to force anaerobic work, which really is not sustainable in the long term for most athletes.
With warm regards and again thank you so much for your kind comments about my work. It is a privilege to know that it is making an impact somewhere in the world.
Yours sincerely
Prof Tim Noakes