Page - Marathon History
Jump to:
History of the Air Force Marathon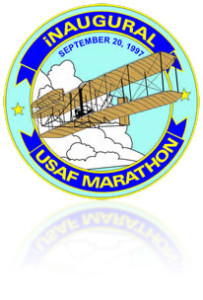 The first official marathon was held on September 20, 1997, celebrating the 50th anniversary of the Air Force, and is held the third Saturday in September each year.  2019 marks the 23rd year and will be held September 21, 2019.
To commemorate our rich history in flight, each year one aircraft is chosen to be highlighted during the marathon and on the unique finisher's medal presented to each race participant.  KC-46A is the featured aircraft of 2019.
The marathon course is a 26.2-mile run that traverses historical places on Wright-Patterson Air Force Base, including the National Museum of the United States Air Force, the Air Force Institute of Technology, Headquarters Air Force Material Command, the Wright-Patterson AFB flight line, Huffman Prairie Flying Field, and the Wright Brothers Memorial Monument.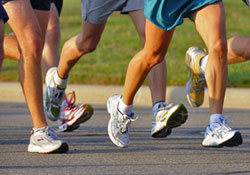 All levels of runners participate from around the world in the marathon, wheelchair, half marathon, 10K, 5K, and kids' races.
The Air Force Marathon course is certified by the USA Track and Field Association and is a Boston Qualifier.
Marathon Record Holders – Individual

| Category | Record Holder | Time | Year |
| --- | --- | --- | --- |
| Overall Male Full Marathon | Josh Cox | 2:20:57 | 2007 |
| Overall Military Male Full Marathon | Brian Dumm | 2:27:49 | 2010 |
| Overall Male Wheelchair | David Berling | 1:12:13 | 2017 |
| Overall Female Full Marathon | Lori M. (Eppard) Wilson | 2:55:04 | 1997 |
| Overall Military Female Full Marathon | Lori M. (Eppard) Wilson | 2:55:04 | 1997 |
| Overall Female Wheelchair | Thea Rosa | 1:41:47 | 2015 |
| Clydesdale * | Manuel Hauck | 3:06:55 | 1998 |
| Athena * | Sara Whittingham | 3:14:28 | 2003 |
| Overall Male Half Marathon | Josh Ordway | 1:07:17 | 2014 |
| Overall Military Male Half Marathon | Ben Payne | 1:07:32 | 2012 |
| Overall Female Half Marathon | Kara Storage | 1:15:56 | 2011 |
| Overal Military Female Half Marathon | Caroline White | 1:16:25 | 2011 |
| Overall Male 10K | Josh Cox | 31:09 | 2011 |
| Overall Military Male 10K | James Bales | 32:14 | 2011 |
| Overall Female 10K | Darcy Mascotti | 37:04 | 2013 |
| Overall Military Female 10K | Anne Portlock | 39:17 | 2014 |
| Overall Male 5K | Brett Still | 15:34:31 | 2005 |
| Overall Military Male 5K | Kristoffer Chacon | 16:05 | 2012 |
| Overall WSU Affliated Male 5K | Justin Wells | 18:14 | 2008 |
| Overall Male Wheelchair 5K | Jeffrey Lee | 25:16 | 2010 |
| Overall Female 5K | Julie Hartenbach | 19:12 | 2017 |
| Overall Military Female 5K | Anne Pennington | 21:06 | 2016 |
| Overall WSU Affliated Female 5K | Christina Norman | 22:38 | 2015 |
| Overall Female Wheelchair 5K | Kirstie Lou Honeywill Syke | 18:58 | 2010 |
| *These categories are no longer offered. | | | |