Blog - Changes to the Air Force Marathon
Change is a natural part of life, whether we like it or not. At times, change is hard to accept. Other moments, change can be the most exciting opportunity lying in front of us. Over the year 2018, the Air Force Marathon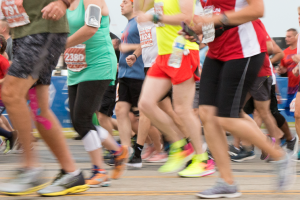 experienced many internal changes. We welcomed a new director, Brandon Hough. Our Sponsorship coordinator came on with fresh eyes. We now also have a new Office Administrator and a new Events Manager. The year was full of change, which also brought new ideas and exciting possibilities to the table. We held a great (albeit hot!) race in 2018, but quickly began looking forward to the potential of the 2019 event.
Now fully embarking into the New Year, with registration having just opened on January 1, we are ecstatic to share all of the changes we are making for the 2019 event.
Newly Designed Courses for the Full Marathon, Half Marathon and 10K!

The 10K will begin at 6:30 am (brand new start time!). This course will stay completely on the grounds of Area B of Wright Patterson Air Force Base. The start and finish line will remain the same, but the course is all new. Yes, there are still hills, as many have asked. But we think you'll be excited to see spaces around the base you haven't seen on the previous course.
The Half Marathon will begin at 7:30 am (brand new start time!). The Half will begin with the Full Marathon and for the first few miles will be on the same path before splitting directions.
The Full Marathon will still begin at 7:30 am. However, it's a brand new course! We flipped the course with a few other changes you will notice. The Fairborn Fly Zone is now mile 15, just when many runners most need the boost of inspiration!

This year we will be starting our Full and Half Marathon runners in a corral system.
New Layout at the Expo

Runners will notice when they enter our expo on the upper level this year that they will be welcomed first thing by New Balance-Dayton. New Balance-Dayton, our Footwear and Apparel Sponsor.
There will be a family friendly area in the center of the arena floor of the expo. In this area, you will find our information booth, a sitting/relax area, our course viewing area, a phone charging area and a place for friends and family to make signs to cheer on their runner!

An exciting mobility clinic led by a 2016 Rio Paralympics Gold Medalist, Grace Norman and Optimus Prosthetics. This will be offered on Thursday and Friday (times TBD) inside the Nutter Center and will be for all ages, focusing on athletes with disabilities.
A newly instated "Green Initiative" Plan

We are working with the Council for Responsible Sport to provide both an environmentally and a community friendly event. We are excited about these changes and hope you will be as well! Stay tuned for more details and to learn how you can participate as well!

An Extension of the Fly-Fight-Win Challenge

Last year we introduced the Fly-Fight-Win Challenge, where a person could register to run the 5K, 10K, and Half Marathon. This year we are offering the option for the runner to choose between the Half or the Full distance for their third event.

Tailwind Trot (Kids 1K run)

This year we are introducing the Tailwind Trot – a Kids 1K Run, taking place Friday evening, just before the 5K at Wright State University.
We have listened to your voices, and we are excited to bring these changes to our event this year! As George Bernard Shaw said, "Those who cannot change their minds cannot change anything." We have spent hours discussing your feedback and we have worked on changing our perspectives and developing our mission, and so we hope that as we bring these changes to you, you will be as excited as we are. The Air Force Marathon is Where Perseverance and Pride Take Flight! We hope you will come fly with us this year in 2019.