Blog - Run-Walk-Run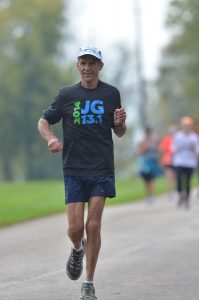 Have you heard of the Run-Walk-Run program? If not, you're missing (47:49) is the founder of the Run-Walk-Run method, and he will be our featured guest speaker at the 2018 Air
Force Marathon Sports and Fitness Expo.
Jeff once wrote for Runner's World magazine and he also has over 30  published books. He is the official training consultant for the runDisney events. Jeff fundraises for the AIDS Foundation, Joints in Motion, and Breast Cancer Research. He promotes corporate health promotion and team building. He has many other accomplishments as well.  His books and websites explain it best, but a summary of the run-walk-run program is much how it sounds. A person who chooses to utilize the method will essentially run a period, walk a period and run a period, repeating that method through their training and their race. Paces vary and a person's time methods will also vary, depending on goals and abilities. Jeff has Galloway Training program groups in 60+ locations across the U S, including one based here in Dayton, Ohio. Jeff has said that due to the run-walk-run  method that the marathon is now possible for almost everyone. We are excited to have him as our guest and look forward to his talks.
Local Galloway Runners
In reference to one of his groups, we spoke with the certified run-walk-run trainer who lives here in Dayton, Ohio. David Hardwick met Jeff Galloway back in 1978 or 79. At that time, David was running 3:11 marathons, and learned of Jeff's techniques. David started out using the Galloway method when training for the Air Force Marathon one  year. As stated above, the times of the run-walk-run vary, but at that time, David did a 7 minute run, 1 minute walk, 7 minute run based off Jeff's advice during that year. David tried out the method and has loved it ever since. He is now a certified Galloway method trainer. David began the Dayton program, partnering with the local running store, Up and Running, for additional support. His co-director is Tom McCourt and they have built a good Galloway group here in the area, doing runs together and hosting clinics and now soon beginning training together for the 2018 Air Force Marathon. David is an avid believer in this program and he paces for the Galloway method for a variety of races across the US. David said, in regards to using this method, that he can't pick one favorite moment. He did say "I just came back from packing the Disney Princess half marathon in Florida and absolutely loved it! I lead my pace group of up to 100 people and it was awesome."  The Galloway method (run-walk-run) is a proven method for finishing races and finishing well. For any questions, we have more links on our website.