Page - Featured Speaker
Ivan Castro
MILITARY BACKGROUND:    MAJ Ivan Castro (retired) enlisted in the U.S. Army in 1988.  While serving as an enlisted man he held the positions of rifleman,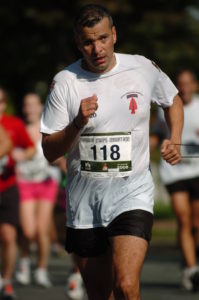 team leader, squad leader, platoon sergeant, drill sergeant, operations NCO, and Special Forces weapons sergeant.  After reaching the rank of SFC and earning his Bachelor of Arts in Business Administration cum laude from Campbell University he graduated Officer Candidate School in 2004.  His past assignments include the 101st Airborne Division, 101st Pathfinder Detachment, Fort Campbell, KY; 5th Corp Long Range Surveillance Company, Darmstadt, Germany; 3rd Ranger Battalion, Drill Sergeant, Fort Benning, GA; 82nd Airborne Division, 7th Special Forces Group (Airborne), Special Operations Recruiting Battalion, United States Army Special Operations Command, FT Bragg, NC.  Castro served in Operation Desert Shield/Desert Storm.  He has multiple deployments to Bosnia, Albania, Kosovo, South and Central America, Operation Enduring Freedom and Operation Iraqi Freedom.
Castro was injured September 2, 2006 while serving as a scout platoon leader in the 82nd Airborne Division during Operation Iraqi Freedom.  Castro sustained life threatening injuries and was blinded in both eyes when mortar shells landed near him killing two men in his unit.
Castro defied the odds by battling back from his injuries, remaining on active duty and subsequently becoming the first blind graduate of the Maneuver Captain's Career Course at Fort Benning, GA.  Since his injury, he has served as Company Executive Officer, Company Commander for Headquarters Special Operations Recruiting Company, and USASOC Deputy Director, Preservation of Force/Families.  As part of his leadership, mentorship and example of resiliency in these roles, Castro has completed a number of ultra-marathons, triathlons and 60+ marathons, including the New York, London, Boston and Marine Corps Marathons.  Continuing to live the warrior ethos and the Special Forces way of life in 2012, Castro challenged himself further by cycling across America.  Then in 2013, Castro was selected to be part of an international team of injured service members joined by Prince Harry and trekked 200 miles across Antarctica to reach the South Pole.  He is the only blind American to ski to the South Pole.  During March of 2017 he summited Mount Kilimanjaro the highest mountain in Africa.
Some of his military education includes the Special Forces Qualification Course, Survival with Resistance to Interrogation Course, Survival Evasion Resistance and Escape Course, Special Operation Target Interdiction Course, Military Free Fall Course, Ranger Course, Pathfinder Course and the Long Range Surveillance Leaders Course.
Castro's awards and decorations include the Valorous Unit Award, Meritorious Unit Commendation, Army Superior Unit Award, Purple Heart with one oak leaf cluster (OLC), Meritorious Service Medal with two OLC, Army Commendation Medal with one Silver OLC and one Bronze OLC, Joint Service Achievement Medal, Army Achievement Medal with two OLC, Combat Infantry Badge with one star, Expert Infantry Badge, Drill Sergeant Identification Badge, Master Parachutist Badge, Pathfinder Badge, Military Freefall Parachutist Badge, Colombian Jumpmaster Badge, Dutch Parachutist Badge, German Parachutist Badge, Ukrainian Parachutist Badge, Ranger and Special Forces Tabs.  On October 16, 2013, the Special Forces Charitable Trust recognized MAJ Castro's efforts and honored him with the Ross Perot Award for Military Philanthropic Leadership.
Currently Castro is assembling a team to trek to the North Pole, planned for April 2018. Other future challenges include hiking the Appalachian and Pacific Crest trails.
Retired from the US Army, he is now part of a private consulting company that will host team building and resilience seminars for corporate clients.  Castro gives back to the community by helping special operations service members and their families through his non-profit, Special Operators Foundation which has a mission of assisting with education and employment.
Castro is the Co-Author of FIGHTING BLIND, published November 15, 2016, it details his war experiences, struggles with blindness, and achievements after being injured.
Castro has never lost sight of who he is and believes that although his sight has been taken from him, there is still life out there to be fully lived and enjoyed.  Although doors have been closed by the nature of his injury, he continues to show that there are many doors out there to be opened…all you need is a vision and the will to keep moving forward out of the darkness!
Castro's biggest inspiration is his family as he strives to show them that even though he is blind, he is still the same man as before his injury… driven and determined.