Blog - Keep on "Tri-ing."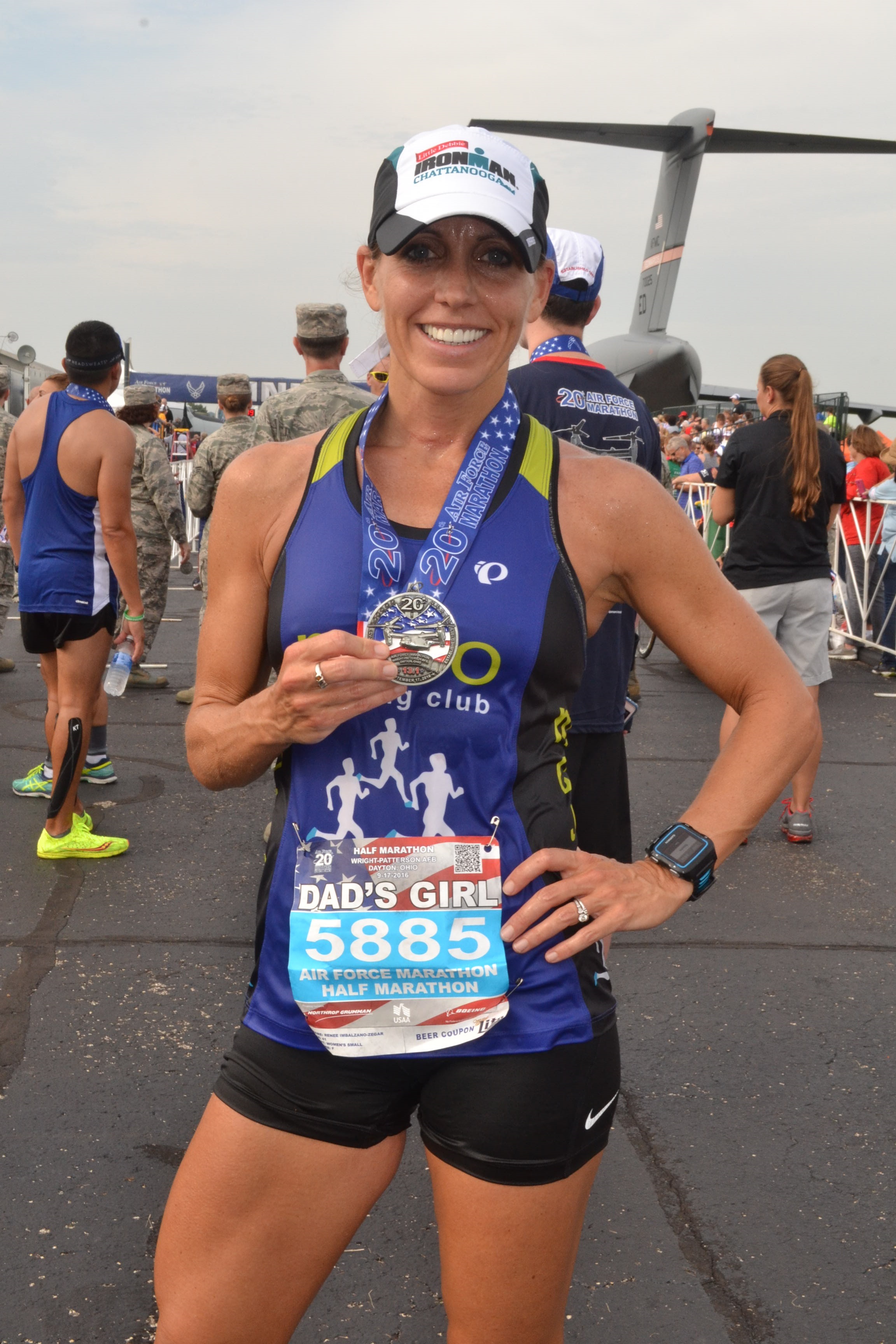 Keep on "Tri-ing"
This week we welcome another guest blogger.  If you have a story you'd like to share, e-mail us at usaf.marathon@us.af.mil.
My name is Renee Imbalzano Zegar from West Chester, Ohio.  I am a 41 year old wife and mother of a 13 and 10 year old.  I work full time as a speech Language Pathologist in a local high school.  I am an avid runner and triathlete.  I enjoy living life each day with a smile on my face and aspire to make others do the same.  I ran my first marathon in 2005 at the age of 30 and as a brand new mother in a time of 4:09.  Since then I had a second child, have run 14 marathons and half marathons as well as countless 5k and 10k races.  I am also a 14 time Boston qualifier.   My running career improved each year as I dedicated more time to my training and learned to train for speed and distance.  Five years ago I took up triathlons after watching Ironman World Championships on television and being amazed by the people I saw competing.  I learned to swim and became more comfortable riding a bike.   I have completed 2 full Ironman triathlons, 5 half ironman triathlons and many Olympic distance triathlons.  I improved each year of racing with consistent training and have also now completed a  World championship Ironman in Hawaii in October 2016.
Throughout the course of my racing career I have overcome many obstacles and challenges.  Being a wife and mother with a full time job has required creativity with finding time to get the training in.  On top of regular life duties, I was diagnosed in 2012 with thyroid cancer and had my thyroid removed and went through radioactive iodine treatment.  That very next summer an injury in my foot side lined my running and the aching foot that wouldn't heal turned into a stress fracture.  I was out of the sport I love to do for 5 ½ months.  I slowly got back my running and speed and for my 40th birthday I decided I would run Boston once more and sign up for my second ironman.  I ran Boston in April 2015 in a PR time of 3:17:12 and it made me smile to have overcome cancer. I also embraced being a master runner in my new age category.  My motto became "age is just a number."  Following Boston, full on Ironman training began.  It was 5 months of 4:30 am wake ups, watching my diet, 2 and 3 a day workouts, giving up every Sunday to spend the day getting in long bike rides, missing time with my family and friends.  This was all in preparation for Ironman Chattanooga, in which I placed 3rd in my age group with a PR of 10:50: and secured my qualifying slot in Kona, a world championship Ironman.  My Mojo tri team mates became my very close friends as we spent hours and hours together.  They motivated me when I was at my lowest, pushed me when I was exhausted, lent me race wheels, shared race plans and secrets, taught me how to change a flat (which I still struggle with), laughed along with me when I fell off my bike, and pointed out that despite my lack of swimming ability at least I could run and catch themJ  I really could not have achieved what I have without them.
In September 2016, I ran the 20th Air Force Half Marathon. I was pleasantly surprised by my performance. I ended up 6th overall female and 1st in my age group! That was my last running race before the Ironman in Kona, only 3 weeks later.
My racing and training has been a testament to the fact that with the correct training and support your body can and will do anything.  I try to instill this fact into each new friend I meet at running and tri groups.  My goal is to help others reach their goals and overcome personal obstacles.  It gives me tremendous personal satisfaction to motivate and provide support to others to achieve things they didn't think possible.   I hope through all my accomplishments I can be a positive role model and inspire others around me.   Anything is possible it we just give ourselves the time to 'tri'J