Blog - Meet Tailwind!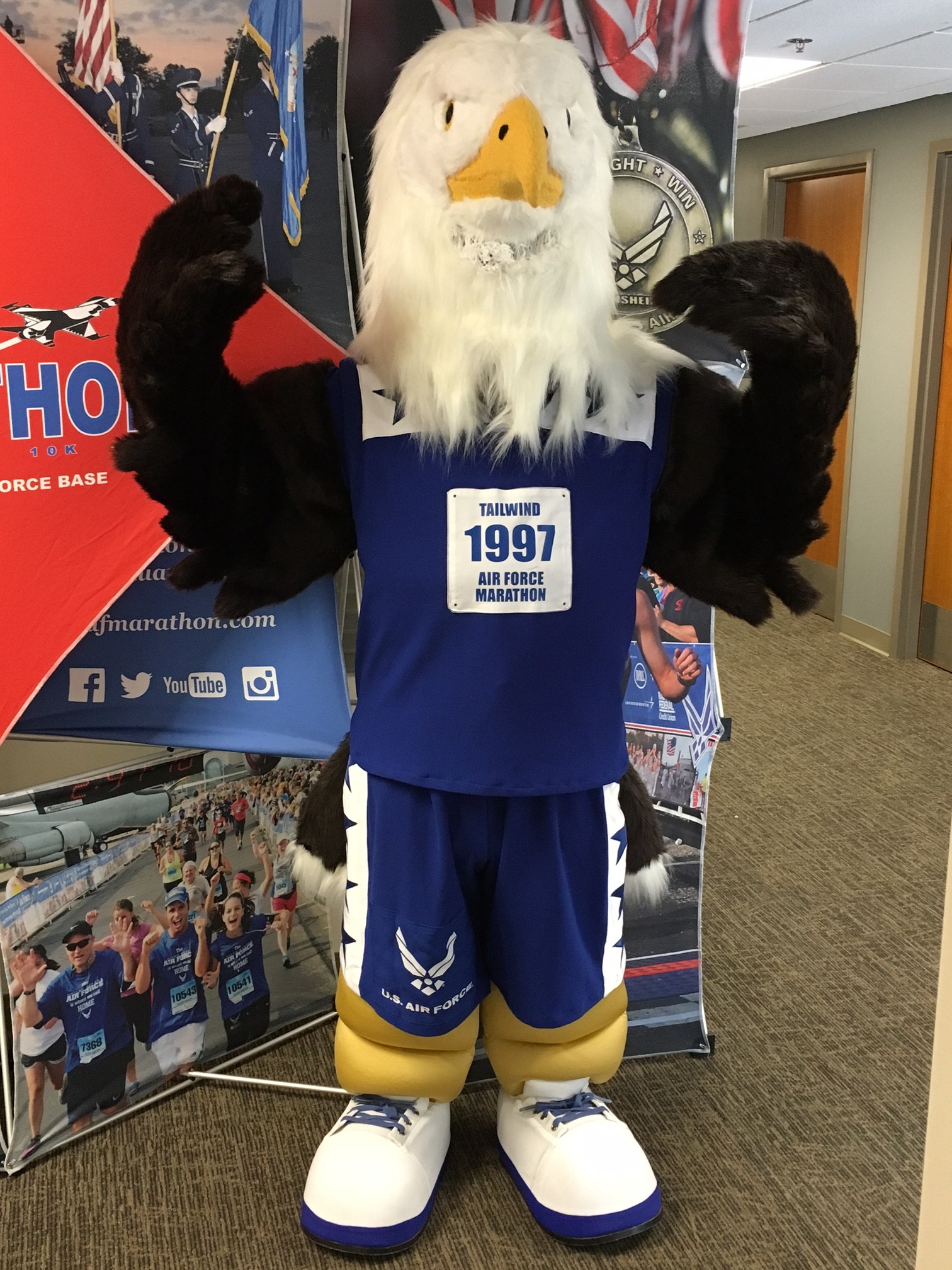 Tailwind, an interview with an eagle.
As you may have heard, the Air Force Marathon is welcoming a new staff member to the team.  Tailwind the eagle has arrived to serve as the race's new mascot.  You may not know a lot about this enthusiastic supporter so we sat down for an illuminating interview to introduce him to you.
Air Force Marathon Staff:  Welcome Tailwind.  How are you liking the Dayton area so far?
Tailwind: It's great!  There's so much aviation heritage here, this is the place for an eagle to be!
AFM: We noticed you're wearing running shoes.  Don't eagles fly?
Tailwind: Sure, any bird can fly, but I'm a runner.  There's just something about hitting the pavement and grinding out some good mileage.  I love it.
AFM: Are you running the race this September?
Tailwind: Well, I would, but I'm working that weekend.  I've got things to do and runners to encourage!  I'm going to be out there on race day cheering on our participants.  That's what I'm all about, the runners!
AFM:  What about the Sports and Fitness Expo?
Tailwind:  Oh yeah.  I'll be there.  I'll be there to welcome everyone and have a little fun.  I'm looking forward to taking a few photos, slapping a few high fives and generally just making our runners feel good about this challenge they are taking on.
AFM: Last year we had the Geico Gecko and the New Balance mascot, Newbie at the Sports and Fitness Expo.  Are you worried about the competition?
Tailwind:  What competition?  They're my buds!  Anyone who supports the Air Force Marathon is a friend to Tailwind!   I hope they come back this year.  I can't wait to hang out with them.
AFM: So, as the new Air Force Marathon mascot, what can you tell our runners about what to expect from the 20th Air Force Marathon?
Tailwind: There is so much new this year, I mean, beside me.  We're going to have our own mobile race app.  Our medals are bigger and better and painted this year.  We also have three different shirt designs for the first time ever.  We're going to have a PR bell so runners who set their personal records can ring it and let everyone know. We also move the information area at the sports and fitness expo down to the arena floor.  So there is a lot of newness.
AFM:  This is your first marathon weekend.  Are you nervous?
Tailwind: I'm excited!  This is what I was made for.  Hanging with our runners and spectators will be loads of fun. I am a little nervous to meet Meb.  He's such a rock star in the running community.  Am I even worthy?
AFM: I'm sure you'll be fine.  Any words of wisdom for our runners?
Tailwind: Wisdom?  Me?  Well, I'd just caution runners to have a good time.  The race is a celebration of all the training you've done.  Have fun with it and don't forget to get your picture taken with me after the race.