Blog - Running and Tragedy
We have previously blogged about running and grief.  We'd like to share another story of one of our runners who found solace in running and in one of our great charity partners in her own words.  
My name is Rachael Hill, and this is my running story.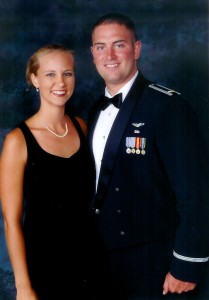 In July 2010, my husband, Air Force Captain Jeff Hill, was killed along with three other crewmembers when their C-17 went down during a training flight on Elmendorf AFB, Alaska.  It was a devastating accident that turned my life upside down.  Our two boys had just turned 3 and 5, and in the aftermath of the accident we found ourselves trying to maneuver through this life without the one we loved the most.  It has been a long road, but with time, support, and a lot of love, we are making it through.  Jeff was an amazing man and he is missed by all of us – all day, every day.
In the midst of the darkness, TAPS (Tragedy Assistance Program for Survivors) provided us a comforting hand and a place to turn to when we needed understanding support. On October 26th, 2014 I ran the Marine Corps Marathon with TAPS, my second ever full marathon! Now, I have never claimed to be a runner, but completing a marathon had always been on my bucket list.  The way I see it, if you can run a marathon, you can do just about anything!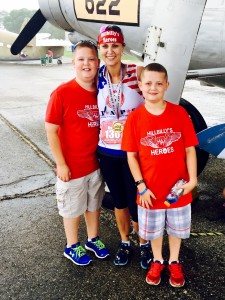 While training for this marathon, I had to complete many long runs, and while on these long runs my mind would often wander through many topics. One run even brought me to the realization that running is actually a lot like grief. Running and grief are both extremely hard, physically and mentally.  When running, my chest hurts, my legs hurt, and it often becomes a mind game in telling myself I need to keep pushing forward regardless of the hurt, and that eventually it will get better. For me, it is an amazing similarity to how I feel in grieving the loss of my husband. Long runs often bring the proverbial "walls" where you just feel like you can't go any further and all you want to do is quit. However, inside you know that if you keep going just a little bit further you will find a second wind that will keep you going with the run. Since my husband died six years ago, I have run into many "walls" in my grief. Most days I feel pretty good and am accepting of the path this life has put me on, but then all of a sudden, virtually out of nowhere, there will come a day that it all feels too much and I miss Jeff so deeply I can physically feel it. Perhaps the biggest difference between running and grief is that when running, I know there is ultimately a finish line. Whether it be a time, a distance, or a finish line at a race, there is a definitive end and at that point I will be able to recover and rest. Grief doesn't have that definitive end. However, what it does provide is the understanding that as time goes on, it will get easier. The hurt and pain will always be there in some respect, but you learn how to maneuver through it in a different way.  This is why grief in itself is not a short sprint, it is a marathon. It is a marathon with no training and you have to learn as you go. I have learned to follow my own timeline and do things at my own speed, regardless of what others are doing around me. It's a marathon, so I have learned to take my time and listen to my mind and body along the way. I have to continue to remind myself that I can do it. I have to believe in myself and trust that Jeff's memory, as well as his new form of presence in my life, will help me through. Then at the finish line when I see my husband again in Heaven, I believe my own steady pace in the journey of this race will have all been worth it.
My boys continue to work through their grief at TAPS' Good Grief Camp and are able spend time with other kids that truly understand what they have been through.  I have also met a number of extraordinary women through TAPS' Widow's Retreats who continue to be a source of strength and comfort for me, and after becoming a Peer Mentor, I have been able to work with other widows and hopefully help them along their journeys as well.
The 2015 Air Force Marathon was my third full marathon and I ran in memory of my husband and all four crewmembers of Sitka 43 (Major Aaron Malone, Major Mike Freyholtz, Captain Jeff Hill, and SMSgt Tom Cicardo).  I also ran to help raise money for TAPS, as TAPS has been there for us from the very beginning and continue to provide that needed support.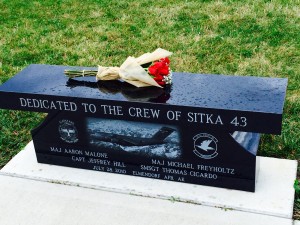 As an Air Force veteran myself, I am so thankful for the opportunity to have  run the Air Force Marathon.  It was an incredible race and a truly amazing experience!  It was also an honor to be able to give back to TAPS in this way, while continuing to keep the memory of my husband and his crew members alive.