Blog - Amazing Grace
Amazing Grace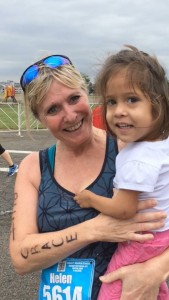 This week we want to feature one of our runners who participate in the I Run 4 program. Her name is Helen, and this story is told by the mother of the little girl for whom Helen Runs. This is the story of "Amazing Grace", by TSgt
Amanda Golembiewski.
Helen Hart flew in to Dayton, OH to run in the 2015 Air Force Marathon from Derbyshire, England.  She ran the half marathon race and dedicated her miles to my daughter, Grace Golembiewski.  My daughter Grace was born with a very rare condition called Arthrogryposis Multiplex Congenita (AMC), a condition which causes "stuck" joints. Grace is affected in all four of her limbs (arms and legs).  Grace has a severe case of AMC, causing little to no movement in her arms and limited movement in her legs.  This condition also caused Grace to be born with a deformed right hip socket and no left hip socket.  When Grace was born in January of 2013, we were told by multiple doctors that she would never walk or be able to care for herself.  When Grace was about 6 months old I found a group called 'I run 4'. This group pairs runners with adults or children with disabilities.  In August 2013, Grace was paired with her runner, Helen Hart.  From the beginning, Helen and her family have been so amazing, they support Grace with their love and kindness.  Helens daughter at one point did a school project on Arthrogryposis, Helens family has truly embraced our family.  When Helen and Grace were paired together, Helen made a goal to run the distance from Derbyshire, England to Dayton, OH; dedicating each and every mile to Grace. But that wasn't enough for Helen, she now makes mini challenges.  Within the first year Helen had run over 1,000 miles. In 2014 she made a goal of running 14 half marathon within the year, and in January of 2015, Helen ran a 5k every day!  Each and every mile dedicated to our daughter, Grace.  As parents of a disabled child, we can sometimes feel alone, we feel like we are the only ones that has an invested interest in the success of our
child.  It can be exhausting and demanding but Helen has changed that perception of mine. Helen and her family care and love Grace. On September 17th, for the 2015 Air Force Marathon, they met for the first time in person.  That moment is something I will never forget.  Seeing these two, who had been paired two years prior by the 'I run 4' group, meet each other for the first time was heartwarming.  And then for the two of them to share the experience of running in the Air Force Marathon was the perfect way for them to share that moment. There can be times, as a parent, that you feel exhausted, that maybe it would just be easier to give into what doctors have told you, your child is capable of.  Just stop fighting, but then I see a post from Helen on social media, or we get something in the mail from Helen.  These little reminders push us to be better, push Grace to be better.  Helen has ran thousands of miles for grace not because she has to but because she wanted to do something for someone else, because she truly cares about our daughter. That extra support has given Grace's father and I the extra motivation needed to do everything and anything it takes to give Grace the best opportunities to grow, even when it felt impossible.   Grace has had a rough road, but she's a fighter.  In 2014, Grace went through 2 hip surgeries and had another surgery in 2015.  I mentioned before that we were told, Grace would never walk; well she's walking, assisted by a walker, but none the less, she is walking.  I know this has something to do with the fact that Grace is a super hero AND the fact she wanted to run with Helen during the Air Force marathon in 2015.  So the both of them, thousands of miles apart, worked hard for each other and came together during the last .5 miles of the 2015 Air Force Half Marathon and crossed that finish line together!
I signed Grace up for the 'I run 4' group to help her and to show her that she might be different but that doesn't stop people from loving who she is.  We have gotten that and so much more. This whole process has shown me that amazing people are out there, willing to help you get through some  pretty tough times, even if it just means running an extra mile or two.