Blog - Running Through Grief
The following story of the 3rd Air Force Marathon is written by Air Force Marathon Marketing Coordinator, Rick Perron.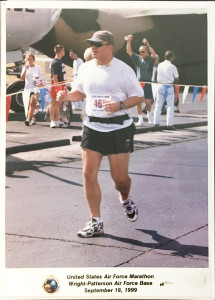 In June of 1998 I was a young lieutenant stationed at Elmendorf AFB, AK when I got the call no son wants to get. My father was diagnosed with terminal lung cancer and had 6 months to a year to live. My first instinct was to go back home to Ohio, but I decided to stay put and see how dad's treatment went. In the interim, I had begun training for the Honolulu Marathon with Team in Training. My cousin had died of Leukemia some years earlier so the cause was important to me (seeing a trend here?). I hadn't been a runner before, but I quickly discovered the therapeutic value of running. With every step on every training run, I was able to process what was going on back home or just turn off my mind and forget about it altogether. Later that fall, word came that dad's treatment wasn't going well. I applied for and received a humanitarian reassignment to Wright-Patterson AFB so I could be near family and help out in my dad's final weeks and months. I ran the Honolulu Marathon in December. It was my first and it was exciting and exhilarating but bitter sweet as our patient hero, Logan, had succumbed to leukemia while we were training and for myself, I couldn't get dad off my mind.
Home to Ohio
By January, I left Alaska and eventually touched down at Dayton International Airport to reunite with my family and my ailing father. Not too long after I got back, my dad and I took a trip to Illinois to pick up my Jeep, which I'd had to ship back from Alaska. It was a good trip, but I quickly learned how frail he'd become. Still, he managed the trip to the vehicle processing center and back and it ended up being one the last things we did together. When we returned to Ohio, I again sought solace in running. I began to train for the 3rd Air Force Marathon with a coworker. We ran every day at lunch and did long runs at the bike path in Beavercreek on the weekends. One day, returning home from a solo 8-mile run around the flight line at Wright-Patt, I found Dad had left a message on my answering machine. He was in distress and needed help. I didn't have a cell phone. They weren't as pervasive back then. I couldn't get a hold of my mom, so I got in my car and drove to the Emergency room at the base hospital and that's right where he was. Standing in the waiting room, caked in salt from my now dried sweat, I waited alongside my family, dreading the news. Dad didn't die that day. It was a medicine mix up. My training and his fight for life continued. He died that June, the day after Father's day and a year from diagnosis. After a brief break to mourn and lay my dad to rest, I put on my running shoes and got back into training. Again, it proved cathartic. Whether running alone or with my training partner, the miles put distance between me and father's passing.
Race Day
On September 18, 1999 I drove over to Area B near the museum and gathered with over 2,600 other runners, my Championchip timing device laced to my shoe. I was pumped at the race start but that first hill hit hard. I hadn't done a lot of hill training. Still, I managed it and was able to run the whole race without walking. It was good to see my class mates from Air Force ROTC Detachment 643 at Wright State manning a hydration station. All of the freshmen from when I was a senior there were now seniors themselves. The course was out and back as it is today but the last few miles were torturous. The gentle sloping downgrade after the first hill became an arduous climb on the way back. I remember passing a wheelchair athlete with is chair turned to a 45 degree angle on the side of the road, the look of defeat in his eyes. The way down was harrowing in a different way. Descending the steep hill on rubber legs, I felt like they were going to fall out from under me and I'd go tumbling down. Somehow I kept upright and made it to the exhilarating finish. It'd be easy to say I ran the race for my dad but that's not true. Our relationship was complicated. But he was still my dad and I still grieved and training for the Air Force Marathon helped me through and left me with amazing memories.