Blog - THE SECOND AIR FORCE MARATHON
Runners, we'd like to share more with you from the way-back file.  Courtesy of the 88 ABW Historian…
Wright-Patterson AFB hosted the second Air Force Marathon on 19 September 1998. The services division opened and staffed a full time marathon office to better manage and expand the event.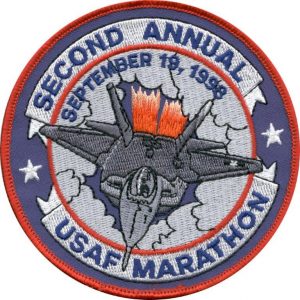 Improvements over the first marathon included a revised parking plan, multiple gate openings, and more portable toilets. Race officials also adopted the ChampionChip timing system which placed a computer chip with transponder on the shoe of each competitor. The chips automatically activated when they crossed the starting line. ChampionChip permitted race officials to expedite registration, eliminate non-registered runners, accurately monitor race times, and quickly report finish times and results. The 1998 event, the 25th largest marathon in the nation, registered 2,526 runners of whom 2,444 ran the race (1,294 individually and 1,150 as members of relay teams). Five wheelchair competitors participated along with 41 relay teams and 286 Ekiden relay teams. The event was aided by 1,800 volunteers and supported by commercial sponsors who donated over $125,000 in cash and services. The Air Force Art Program also sent a team to create art works of the event for the Air Force Art Collection.
Andrew Herr of Latrobe, Pennsylvania, captured his second Air Force Marathon victory. His time of 2:27:41 broke the mark of 2:28:34 he set in 1997. Captain Heidi McKenna from the U.S. Air Force Academy took the women's division crown, crossing the finish line at 3:17:10. Scott Musser of Bellefontaine, Ohio, won the wheelchair competition, completing the course in 1:59:09. A U.S. Army team consisting of Rodney Dycus, Gary Brimmer, John Detro, and Jimmy Blackmon earned first place in the relay competition with a time of 2:23:43. Wright-Patterson's Lori (Eppard) Wilson, who won the women's title in 1997, paced her Bob Schul Racing Team to victory in the women's division of the Ekiden competition; she was unable to defend her individual title due to injuries sustained in an automobile accident. Runners ranged in age from 13 to 79.
Lieutenant General Kenneth E. Eickmann had established a "tradition" for ASC commanders at the first Air Force Marathon in 1997 when he ran the complete course. Lieutenant General Raggio, not wishing to abandon this hallowed tradition, decided to participate in the second marathon. However, choosing "to share the full experience with [his] peers," he invited "Wright-Patterson's most finely tuned and conditioned general officers" to join him as members of a general officer relay team. Nine of his peers accepted the offer. General George T. Babbitt, commander of the Air Force Materiel Command, anchored the team, bringing it home in 4:11:30