Blog - Brain Tumor Warrior
*Once a month, we want to feature one of our runners' story. If you wish to submit your story, you can do so by emailing it to us at usaf.marathon@us.af.mil. * This is Ken Bean's story, told by him. Thank you, Ken, for sharing.
Welcome to my journey.  In 2010, I started running for my health.  Two days later into this quest, my high school friends notified me a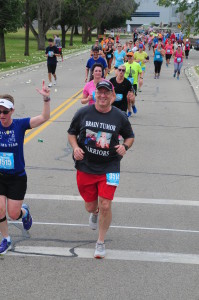 schoolmate from Missouri was KIA in Afghanistan.  He earned a Bronze Star for his effort.
I did not understand why it bothered me so much.  He was one year younger than me in school; I remembered his brother from basketball and him from baseball.
I graduated from that small school in the middle of nowhere called Mansfield.  Everyone knows everyone in Mansfield. I couldn't understand why I lived there for a few years, only to move back to Ohio after graduation.  But now I do.
It was to tell a tale of Love.  Love of Duty, Honor, Country and Old Glory.  There were friendships built on solid ground and memories I have not forgotten.
I remember his eyes, the sky blue shade, the glare of intensity.  I recall the laughter while we warm up the last Spring baseball game my senior year, 1979.I was motivated by Robert's spirit, the warrior who died on the battlefront.  I trained by myself for a year and a half when I made a decision to honor his memory.  I would run the 2012 Air Force 1/2 Marathon, but the bad news was that it was sold out.
Since I couldn't get in that way, I contacted the USO, an Air Force marathon charity partner and was granted a spot, and in turn, I raised funds for them.  That year, I met some wonderful people, civilian and military both. I completed the 2012 race and thought there is more to it than this.  I was not satisfied so I considered phase II in 2013.  I contacted a lady who introduced herself as "Team Mom" of the USO group.  That woman helped me create a belief in myself.
Phase II: Brain Tumor Warrior
The Warriors I run for became "Heroes On The Road To A Marathon."  I ran a marathon for four branches of the military, Army, Navy, Air Force, and Marines.  I ran through pain, injury, heat, rain, and cold.  I completed all four races because it wasn't about the win; it was for my heroes and what they have done for our country.
I placed names on my back, but Robert's photo took center stage on the front of my shirt.  His memory led me every mile of a 104.8 mile journey ( a total of 4 marathons.)
The races in 2013 created nagging injuries, so the only marathon I was going to run would be in 2014 in Columbus, Ohio.  I was on my way to the start corral to run for more of my Heroes when my life changed once again.  The Astrocytoma Glioma kept me from even being able to start that marathon.  The simple partial seizure was my warning sign.  I had completed the 2014 Air Force  1/2 Marathon with no episodes, but I promised my wife if there is an episode in Columbus, I would return home.  I had doctor clearance to run, but I didn't realize I would have to stop before the race started.  I drove home with no satisfaction of accomplishment.
I was heartbroken because I placed a special warrior's name on that shirt.  He deserved a moment in the spotlight. It was my quest of honoring war heroes in 2013 that prompted my hope in 2015. I had the brain tumor removed that January. I began chemo-therapy, but the doctors allowed me to run during non-treatment weeks.
In 2015, I returned to run the Air Force ½ Marathon once again. This time it was for Warriors again.  Only these Warriors appear a little different. On the outside we look nothing alike, but on the inside they are just like me.  They, too, fight brain tumors. I ran the race while under the effects of chemotherapy, but I finished. I finished for me, but I really ran it for them.
I will run the 2016 Air Force Marathon- the full this time- in my quest to be a brain tumor warrior. I have lived a full life, but the children who are battling their own personal war against cancer affects me.  I look forward to being a part of history,  Air Force marathon history, but more so a part of the quest to conquer brain cancer, and be part of that history. One race, one dollar, one child at a time.